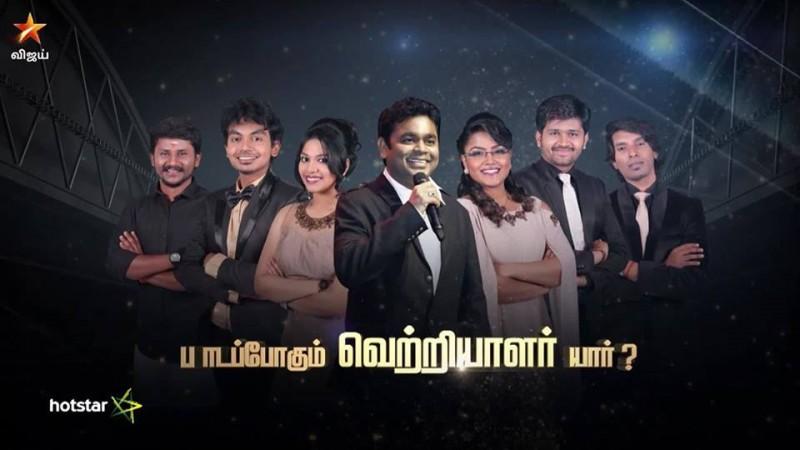 The grand finale of Vijay TV's Super Singer 6 will be held at Nehru Stadium on Sunday, July 15. Six contestants will be competing for the coveted trophy and a cash prize. Catch the Live Updates of the Grand Finale
International Business Times India conducted a poll to understand the pulse of the viewers on who is going to be the winner of Super Singer 6. Not surprisingly, Senthil Kumar has emerged victorious by a huge margin.
Yes, looking at the vote share, one gets an impression that it will be a cakewalk for Senthil as he has garnered 56.34 percent votes.
Sakthi is in distant second place by earning 16.8 percent votes, while Rakshita ended up at third place by getting 10.17 percent. Sreekanth (9.2 percent), Anirudh (4.89 percent) and Malavika (2.61 percent) are in the next three places.
If our prediction is true, Senthil, Sakthi and Rakshitha will be in the first three places. Looking at the victory margin of Senthil in the poll, it is safe to say that he would easily be the winner until and unless something really goes wrong for him in the finale.
It has to be noted that apart from the audience's votes, the marks given by the judges will be taken into the consideration in deciding the winner.

Online Voting Process
If you want your favourite candidate to win, you can vote and support by following the below procedure:
Log in to www.google.com and search for Super Singer Voting
The top search result will be for the vote. People will have 50 votes per day and per e-mail ID. They can cast all the 50 votes to one candidate or multiple contestants.
Note: The voting lines close at 8.10 pm on July 15.