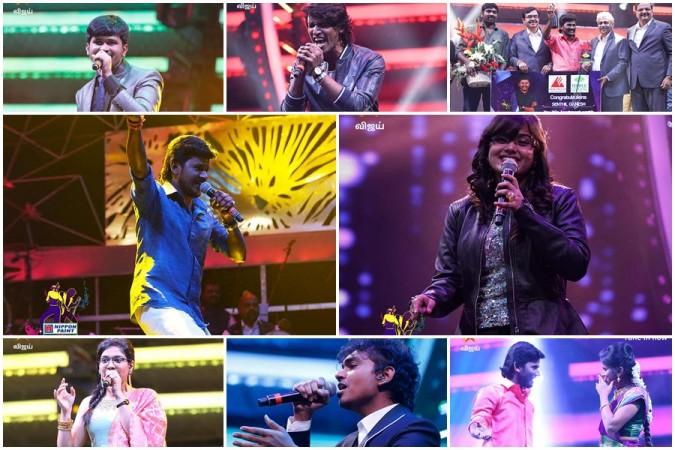 A section of netizens have shared their disappoint after Senthil Ganesh was declared winner of Vijay TV's Super Singer 6. Many are of the opinion that there were more deserving candidates than Senthil and the channel overlooked the talented singers. Super Singer 6 grand finale pics are here:
The winners are decided on the basis of public votes. A poll conducted by the International Business Times had clearly indicated that it would be a cakewalk for Senthil Ganesh and the result has not surprised many, considering his popularity among the masses.
However, netizens say that the popularity should not be the criteria alone and singing ablities should be the major factor in deciding the winner.
Senthil Ganesh has emerged victorious in Super Singer 6 to win the trophy in the grand finale held on Sunday, July 15, at Nehru Stadium in Chennai. Rakshita is the runner-up, while wild-card entrant Malavika has ended at the third place in the Vijay TV's popular show.
The show was started at an unusual time at 3 pm, probably because of Kamal Haasan's Bigg Boss Tamil 2, which is aired at 9 pm. Generally, the grand finales are scheduled in the evening, but this time it was an exception.
The grand finale, which comprised of two rounds, had the participation of six finalists - Sreekanth, Rakshitha, Senthil Ganesh, Sakthi, Malavika and Anirudh. Unni Krishnan, Anuradha Sriram, Shweta Mohan and Benny Dayal are the judges of Super Singer 6, which was hosted by Ma Ka Pa Anand and Priyanka Deshpande.
It was started with Anirudh singing "Ballelakka" song from Rajinikanth's blockbuster Sivaji. It is followed by Sreekanth ("Oru Naal Podhuma" song from Thiruvilayadal), Malavika ("Malargale Malargale" song from Kadhalan), Sakthi ("Ennodu Nee Irundhaal" song from Ai), Rakshita ("Vedam Anuvanuvuna" from Sagar Sangamam) and Senthil Ganesh (folk song).
In the second round, Malavika begun the procedings by singing "Mannavan Vandanadi Thozhi" song from Thiruvarutchelvar, Anirudh sung "Eedu Inai Namakku Yaethu" from Lava Kusaa, Sreekanth crooned "Anjali Anjali" song from Duet, Rakshita sung "Adiye" from Kadal, Senthil once again sung a folk song and Sakthi gave the last performance of the season by singing the title song from Velaiyilla Pattathari.
Winners
Senthil Ganesh has presented the trophy and a Rs 50-lakh house. Rakshita, who is the first runner-up, won Rs 25 lakh worth jewellery. Whereas Malavika, the daughter of musician Rajhesh Vaidhya, won Rs 2 lakh prize.
However, Senthil's wife Rajalakshmi was presented Rs 5 lakh by Ramraj Cotton, one of the sponsors. She will use the money for the education of the students from weavers association.
Also, Senthil and Sreekanth have also bagged opportunities to sing in AR Rahman's future projects.
Find out what upset audience say here:
PS: Sakthi has an emotional past. Senthil has a Tamil card. Imo neither deserves to win it. Srikanth and Rakshitha are better singers. End of.
#SuperSinger
Hᴀʀᴜʜɪ: #SuperSinger sreekanth is like sathyaprakash this season, the public might have let him down, but his talent will not!!
Harsha: What's the use of voting for favourite contestant? Will it justify the best performer? Even the low performer can win it by votes. ‍♂️
Filmii girl: Totally let down by #SuperSinger6 and #BigBossTamil2 results. Should we boycott @vijaytelevision? Or people really voted like this ☹️ #SuperSinger #BigBossTamil
Manjula: #SuperSinger absolute nonsense! Nothing for Anirudh?? You are kidding right ? Right from the day one you ppl have been promoting Senthil. Nothing against Senthil but others deserved too! #vijaytelevision
SD: @SuperSinger_6 #SuperSinger6 #SuperSinger Senthil quashed opportunities of deserving others like Keshav, Ashwin, Sireesha! Now, he wins as expected, sic!!! Deserving - Rakshu/Sreeka-1st, either of them-2nd, Ani-3rd, Malu-4th; Senthil-popularity and nothing more.
Abinesh: Please no more another season of #SuperSinger shite. Almost all the brilliant singers were eliminated because of this so called 'Makkal Isai' and eventually it won the finals when the deserved ones kept out. Such a dissapointment. @vijaytelevision
Vijay Bellan: There is something more than talent which is playing its part. This is not the first time. Neither will this be the last time. If the views can ignore the show for once, true talent will come out.#SuperSinger
RG Gandhekar: #SuperSinger6 @suresh_rakshita you are the one and only topper. Ofcourse sreekanth good too. @vijaytelevision have some sense. We are not against senthil or tamil folks but talent to be rewarded. Dont play with good contestants & their families. @vijaytelevision$€₩@#
Manjula: #SuperSinger #vijaytelevision when will you stop body shaming ppl? Have some ethics! You are running a big channel and have some grace. It was highly disrespectful to watch Rajalakshmi body shaming Priyanka and this is not the 1st time you are doing this
SayWhat: VijayTV can have whoever as Housemates, depending on their Budget, Negotiations, Availability
As an audience, you can vote, tweet, say whatever. All will be ignored. Like the #SuperSinger6 title winner today.