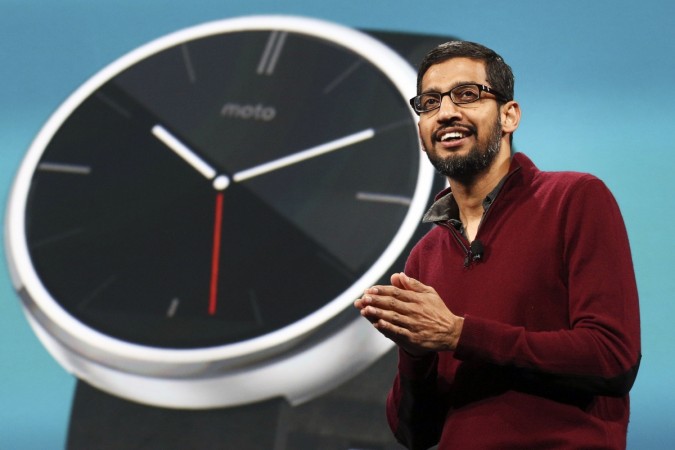 Sundar Pichai has reportedly been promoted to the higher rung of search engine giant Google.
Google co-founder Larry page, as a part of a company re-organisation, has transferred more responsibilities to Pichai to oversee products such as search, maps, Google+, commerce, advertising and infrastructure, while he will continue current responsibilities, reported Reuters, citing a company spokesperson.
Some of the top six executives (including research, social media and search), who used to report to Page, would now work under Indian-born Pichai.
Prior to this promotion, Pichai served as Google's senior vice-president & head of Android, Chrome and Apps.
Re/Code, which was the first to break the news on Pichai's new designation, reported that company co-founder Page wanted to shed some responsibilities like overseeing of development of the company's numerous products' and other man management duties.
Instead, Page wants to focus on the company as a whole, specifically manage business and operations, including access and energy (a new unit run by Craig Barratt), Nest, Calico, Google X, corporate development, legal, finance and business (including ad sales), Re/Code noted.
Is Sundar Pichai on the way to becoming Google's next CEO?
Tech pundits and market analysts believe this move is the company's process of grooming the 42-year-old Pichai to heading Google Inc one day.
Speculations stem from the fact that a couple of Indian origin nationals - Satya Nadella and Rajeev Suri - had became CEOs of Microsoft and Nokia respectively this very year.
Earlier this year, Pichai's name was also twirling on the internet, with the possibility of him becoming Microsoft's new CEO but those rumours were soon laid to rest, after the official anointment of Nadella as the new head of the American software company.
However, Re/Code - citing sources inside the company - reports that Pichai's elevation in Google cannot be interpreted as a design of making him the heir apparent of Page. But considering the age factor, if Pichai (42) succeeds in achieving some astonishing feats in the coming days, nobody would deny him the chance to become the head of the Mountain View company.
If Pichai truly becomes the CEO of Google in the near future, it will add another feather to India's hat and showcase the quality of the talent pool of the country.
However, it also highlights India's inability to nurture talented youngsters and make them stay for the betterment of the country. Sans the ISRO (Indian Space and Research Organisation plus some IT and business firms (Infosys, Flipkart, HCL, Micromax and others), the country lacks big innovative firms like Microsoft, Google, Apple and Samsung, which are large enough to lead future technological advancement in smart devices and provide millions of jobs.
Who is Sundar Pichai?
For the uninitiated, Sundar Pichai (aka Pichai Sundararajan) was born and brought up in Chennai, Tamil Nadu. He completed his Bachelor of Engineering at IIT (Indian Institute of Technology) Kharagpur.
Pichai then headed to the US for higher education. He holds an MS degree (Stanford University) and an MBA (Wharton School of the University of Pennsylvania), where he was named - Siebel Scholar and a Palmer Scholar respectively.
Prior to joining Google, Pichai worked in engineering and product management at Applied Materials, and later as management consultant at McKinsey & Company.
In 2004, he joined Google as a team leader of product management and innovation efforts of the company's client software products (including Google Chrome and Chrome OS). The IIT-Kanpur alumni is also credited with the creation of Google Drive, a popular cloud-based storage service.
Since then, Pichai has steadily climbed the rungs of Google, overlooking development of top apps like Gmail and Google Maps. Last year, he was made the head of Android team, which was led by Andy Rubin till then.
In September 2014, he launched his pet-project Android One in home country India, with an aim to bring affordable computing to all stratas of the society. This is an initiative to capture the next five billion Android users into the Google's fold.