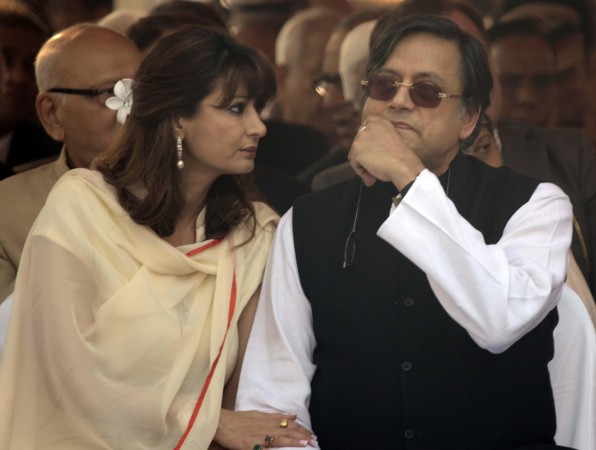 The Delhi police officials, who revisited Leela Palace hotel in South Delhi this week, find new evidences from the hotel room, where former Union Minister Shashi Tharoor's wife Sunanda Pushkar's dead body was found in January this year.
The evidences collected by the police include samples of broken glass and fluid marks on the bed and the carpet of the room number 345 of the luxury hotel. The samples are sent to the Central Forensic Science Laboratory (CFSL) for further examinations, PTI reported.
"We have found a broken glass from the crime scene and collected traces of fluids mark on the bed. These fresh evidence will be sent to CFSL," a police officer said.
The hotel room was sealed since 17 January, after recovering Pushkar's body, but was opened only recently to carry out search operations after AIIMS medical board confirmed in its second report that Pushkar died of poisoning.
As the medical board was uncertain of the poison used to kill her, it asked the police to send the bed sheet and pillow of her room for forensic examination. The fresh findings will help to recognise the poison that resulted in her death.
However, the recent developments also bring the investigating police in the forefront, as it missed out what seems to be a crucial evidence in Pushkar's death investigation.
Meanwhile, senior BJP leader Subramanian Swamy has also decided to intervene into the investigation and said that he may file a public interest litigation (PIL) seeking a "thorough probe" into the matter.
"I may file a PIL in court seeking a thorough probe into the matter relating to the death of Sunanda Pushkar," IBNLive quoted Swamy as saying.
He also added that he will approach the court to seek its interference in Pushkar's case for the first time after BJP-led NDA government took the control, although, he had filed several PILs during the UPA government's rule.
"However, I may file a PIL in the case of Sunanda Pushkar's death even as her husband has been making rounds to the BJP office in Delhi," Swamy added.