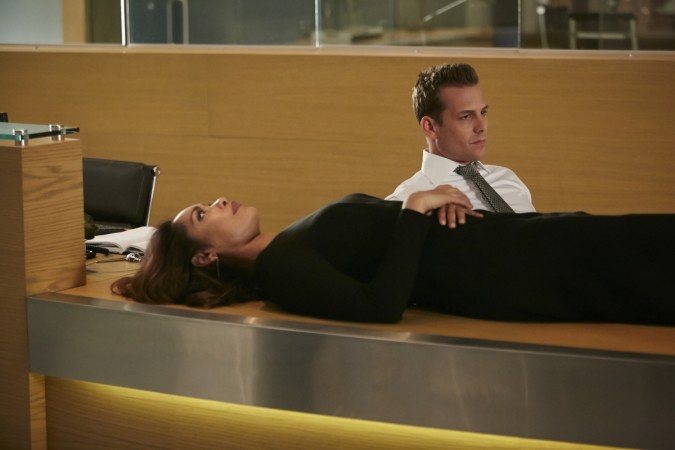 Season 6 of "Suits" is going on a long break following Wednesday, Sept.14, episode titled "P.S.L." As fans would have figured out, this stands for Pearson Specter Litt, and it will be all about the firm and building it back up, now that Mike (Patrick J Adams) has been let out of prison.
After nine long episodes Mike was finally released and although he might not be able to practice again, his friends are just happy to have him back. Also, his fiancé is proving to be as much of a great advocate as he is, especially with Leonard's (Glenn Plummer) case. She has been working diligently, with the help of Jessica (Gina Torres) to grant the death row inmate his freedom.
A huge part of the upcoming mid-season finale episode of "Suits" Season 6 will deal with Leonard's case. In an interview with International Business Times, India, Markle had told us about the badass Rachel fans will get to see in Season 6 and it is proving to be every bit true. It will be great to see the dynamic between Mike and Rachel, now that she is the feared and respected lawyer and he is more or less in the sidelines.
Also Read: 'Ray Donovan' makes a deal with Agent Barnes to save Avi?
Hopefully, Mike will still work at Pearson Specter Litt in some capacity, at least until he figures out a way to practice again. However, the firm itself is in jeopardy, thanks to everything that happened since Mike joined claiming to be a Harvard graduate back in Season 1. Now, Harvey (Gabriel Macht) and Louis (Rick Hoffman) can completely concentrate on launching the firm in full speed, but for this they will need to woo an old client.
The official synopsis for Season 6 episode 10 of "Suits" reads:
Jessica and Rachel fight to save Leonard Bailey; Harvey and Louis try to keep clients from abandoning ship by wooing their oldest client.
Don't forget to watch "Suits" mid-season finale titled "P.S.L." at 9 p.m. (EST) on Wednesday, Sept. 14, on USA Network. You can also live-stream "The Hand that Feeds You" via USA TV Live and Hulu. In India, the episode will be aired by Comedy Central at 10 p.m. (IST) on Saturday, Sept. 17.
Following the mid-season break, "Suits" will return with Season 6 episode 11 in 2017, most possibly on Wednesday, March. 8.