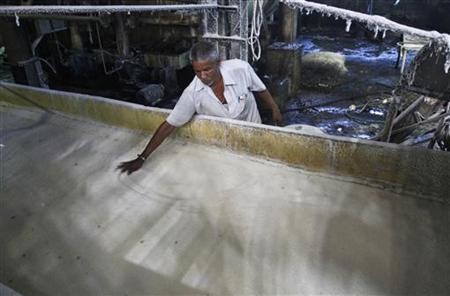 The Indian government has raised the import duty on sugar from 15 percent to 25 percent in order to help regional mills struggling with lower prices and higher stocks. The duty was raised in August last year from 10 percent to 15 percent.
Industries that owe ₹15,000 crore to sugarcane farmers have been demanding an increase of 40 percent, but in June, Food Minister Ram Vilas Paswan had said that the import duty could be raised to 40 percent only if mills pay farmers' dues, estimated at nearly ₹50 billion.
Sugar mills have explained that a 70-percent jump in the price that they have to pay to farmers in the biggest cane-growing state of Uttar Pradesh and 7 percent rise in sugar prices have worsened their finances, leading to cane dues.
"There was import parity but mills were not signing deals, expecting revision in the import duty. At 25 percent duty, imports are not viable," Reuters quoted a Mumbai-based dealer with a global trading firm.
From the beginning of the year to September, India is likely to import just 30,000 tonnes compared with 680,000 tonnes a year earlier, an official told Reuters.
"The duty will certainly support prices, but local prices are unlikely to jump. Supplies are adequate," said Ashok Jain, president of the Bombay Sugar Merchants Association.
Currently, domestic sugar prices are stable in the range of ₹34-40 per kg in view of surplus stocks, as per the data maintained by the Consumer Affairs Ministry.
Industry Body Indian Sugar Mills Association (ISMA) hailed the decision saying this will improve cash-flow of millers and help clear cane dues.
"We welcome the decision. At current global prices and rupee-dollar exchange rate, this increase in duty will check all sugar imports, which will certainly improve the domestic market sentiments," PTI quoted Industry Body Indian Sugar Mills Association (ISMA) Director General Avinash Verma.
"Currently, sugarcane arrears stand at about Rs 6,800 crore across the country, with the maximum of Rs 5,000 crore in Uttar Pradesh", he added
This decision would help boost the Indian sugar Industry and would result in decline in the prices of sugar to some extent.
Stocks Gain:
Share price of majority sugar related firms surged following the announcement by the government. The prices of mentioned stocks were recorded at 3.15 pm during trading hours on Friday.
| | | |
| --- | --- | --- |
| Stocks | Last Price in Rupees | Change in Rupees |
| Andhra Sugars Limited | 155.10 | 5.90 |
| Bajaj Hindustan | 23.90 | 1.35 |
| Balrampur Chini Mills | 69.70 | 1.70 |
| Dalmia Bharat Sugar and Industries | 22 | 0.15 |
| DCM Shriram Industries | 121 | 0.10 |
| Dhampur Sugar Mills | 53 | 1.75 |
| Dharani Sugars and Chemicals | 26.85 | 1.25 |
| Dwarikesh Sugar Industries | 38 | 3.50 |
| Eastern Sugar and Industries | 1.69 | 0.03 |
| EID Parry India | 200.55 | 5.90 |
| Jeypore Sugar | 90 | 1.15 |
| KCP Sugar India Corporation | 22.15 | 0.80 |
| KM Sugar Mills | 4.08 | 0.19 |
| Oudh Sugar Mills | 23.80 | 1.15 |
| Rajshree Sugars and Chemicals | 26.05 | 0.10 |
| Rana Sugars | 3.94 | 0.18 |
| Riga Sugar Company | 13.80 | 0.54 |
| Sakti Sugars | 19.75 | 0.90 |
| Shree Renuka Sugars | 21.15 | 0.90 |
| Simbhaoli Sugars | 16.25 | 0.75 |
| Sir Shadi Lal Enterprises | 30.45 | 1.55 |
| Triveni Engineering and Industries | 25.35 | 0.80 |