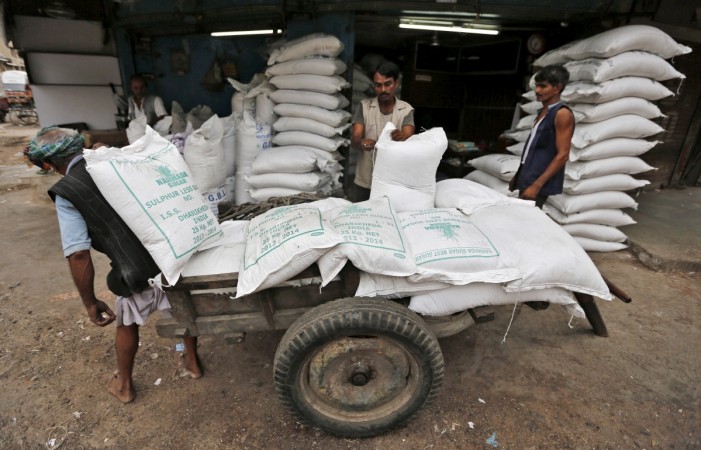 A commodity used to sweeten, sugar has set-off a bitter war of words after industry body, the Indian Sugar Mills Association (ISMA), revised downwards production estimates on Wednesday. The body has accused "vested interests" of confusing the markets with "various" output and consumption numbers to artificially lift prices globally and profiteer.
Read: India's sugar production rises 11% in season 2016-17 till December 15, says ISMA
Output estimates were revised to 21.3 million tonnes for sugar crop season October 2016-September 2017 (SS 2016-17) from 23.4 million tonnes given last September in view of drought-like conditions in some sugarcane-growing states.
"Some people, with vested interests, are trying to confuse the market by simply throwing various numbers for sugar production and consumption for the country in 2016-17 sugar season. Their ulterior motive is to create panic to either artificially push up global prices because they are holding a position in the futures market or want to somehow force sugar imports into India," T. Sarita Reddy, president, ISMA, said in an update on Friday.
While drought and likely low yields in Maharashtra and Karnataka led to downward revision of output estimates for SS 2016-17, lower offtake by users prompted the ISMA to scale down consumption figures.
"...based on actual sugar sales in Oct-Dec, 2016, and the trend in Jan. 2017, and reports of lower off-take by beverage manufacturers, sweet makers etc., the sugar consumption estimates for the year was revised downwards to 242 lakh tons (24.2 million tonnes)," Redddy said.
The ISMA said rumours on production estimates lower than the one given by the body are being done with a purpose.
"A few speculators and sugar refiners continue to spread rumours, to suit their personal vested interests, and create opportunities for themselves to import sugar. Their statements on shortage of sugar, mostly made without any analysis and research, is causing speculation and volatility in the sugar market and spiking sugar prices unnecessarily," it said.
India is the second-largest producer of sugar in the world after Brazil and the largest consumer of the commodity.
A mismatch in production and consumption gives an opportunity for certain business players to import sugar globally, something that is unwarranted since the next SS is expected to witness a bounce back in sugarcane and sugar output, benefiting both farmers and millers, Reddy said.
Sugar production upto January 15, 2017 in the current SS was 5 percent lower at 10.48 million tonnes YoY while dispatches between October-December 2016 were down 8.5 percent to 5.5 lakh tonnes, YoY, according to an ISMA update.
Listed companies in sugar business in India include Oudh Sugar Mills, Dhampur Sugar Mills, Dwarikesh Sugar Industries, Shree Renuka Sugars, EID Parry (India), Balrampur Chini Mills, Bannari Amman Sugars and Uttam Sugar Mills.
In a related development, there is a speculation that the Centre may scrap PDS sugar subsidy given to states for selling under lower prices to low-income families, resulting in a saving of about Rs 4,500 crore annually.
The states procure about 2.7 million tonnes of sugar every year and sell it at the subsidised rate of Rs 13.50 per kg under the PDS and get Rs 18.50 per kg as subsidy from the Central government, reported the BusinessLine.
The department of food and public distribution under the ministry of consumer affairs says that about 50 million sugarcane farmers and around 5 lakh workers directly employed in sugar mills.