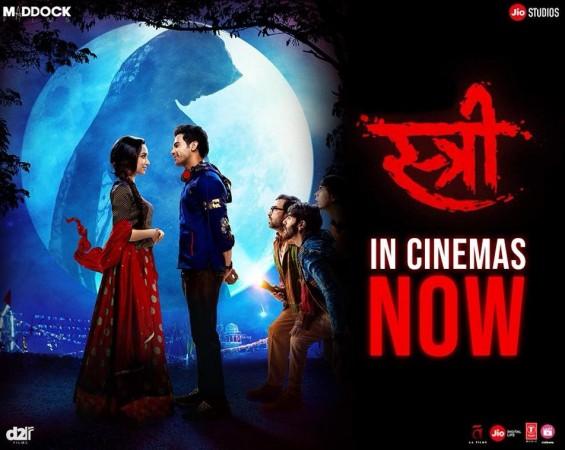 It is said that making people laugh is one of the hardest things to do, and it is even harder to make people laugh and scream at the same time. The movie Stree attempts to do the same and does it perfectly.
STORYLINE
Stree is based on the urban legend "Nale Ba", according to which a witch used to haunt the streets of Bangalore, knocking doors of houses to hunt down men. According to the legend, she used to call men's names, and whoever would turn back to respond, became her victim.
However, this movie is set in Chanderi, Madhya Pradesh. A young lad Vicky (Rajkummar Rao), who is blessed with extreme artistry in the field of tailoring, comes across a mystery girl (Shraddha Kapoor), and instantly falls in love with her. While he is busy wooing his lady-love, who visits the place only once a year, the entire locality gets into a panic when men start to go missing one after another.
Soon it comes to light that a witch, called Stree, has set out in her hunting spree, taking away men and leaving just their clothes behind. Vicky's friend Dana (Abhishek Banerjee) also becomes a prey of the evil spirit. The movie moves forward with the witch carrying out its ghostly acts on one side, and the mystery behind Shraddha's character getting unfolded.
PERFORMANCES
Rajkummar Rao has proved his acting mettle in both serious as well as comic roles. This time as well, he is a delight to watch. From being a shy lover to facing a ghost right in front of him, he nails it with all his expressions. Shraddha Kapoor is creepy and gorgeous at the same time. Her character has a mystery element attached to it, and she pulls off the role beautifully.
One of the most entertaining parts of Stree is Aparshakti Khurrana, who plays Vicky's friend Bittu. He is brilliant all through the film. He is, in fact, the one, who adds most of the humour to the plot. With superb coming timing and hilarious one-liners, Aparshakti is the USP of the film.
Abhishek Banerjee is also a surprise element in the movie and adds considerable humour to the story. Pankaj Tripathi as all-knowing Rudra, who keeps saying "I know everything", is again wonderful. He is a master in the art of making people laugh maintaining a grim face.
POSITIVES
Stree is blessed with some really quirky dialogues that make you laugh even in the most serious situations. Apart from the excellent performances, there are some spooky moments that give you the chills expected from a horror film. But at the same time, the funny punch-lines and acts make you go LOL, reminding you it is a horror comedy. It is fast-paced with hardly any dull moment. Songs are good enough to add further entertainment. Keeping the fun quotient intact, the movie also cleverly takes jibes at some social issues and prejudices.
NEGATIVES
The only drawback that Stree has is the climax. The film ends on a mysterious note that leaves many questions unanswered.
VERDICT
Stree is a well-directed horror comedy that frightens you and tickles your funny bones but entertains you all throughout. With some extremely quirky dialogues, excellent performances and a gripping storyline, Stree is one of best horror comedies Bollywood has ever come up with till date.