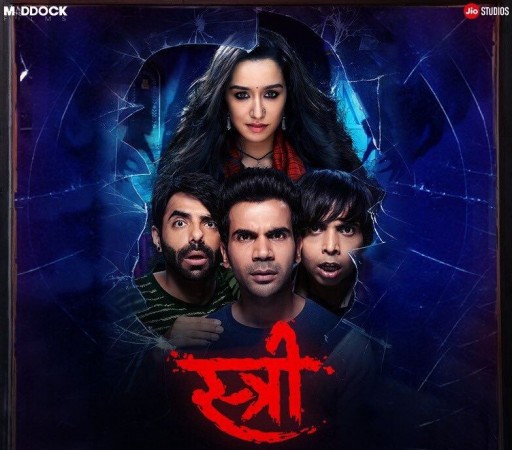 Rajkummar Rao and Shraddha Kapoor's Stree released on Friday. Critics have watched the movie and have come up with their reviews.
Directed by Amar Kaushik, Stree has got positive reviews from the critics. While most of the critics have called it a perfect entertainer , a few others have called it 'dull and boring'. It is being said that the horror comedy has good punch lines, and some chilling moments.
Based on a real-life phenomenon, Stree features Pankaj Tripathi, Aparshakti Khurrana and Abhishek Banerjee among others. The critics have been saying that the film is good in terms of performance as well.
Below are some of the critics' reviews of Stree:
Gulf News: But credit has to be given where it is due. Stree was a creative experiment and it worked for most parts. Had 10 minutes been shaved off, the horror comedy would have been brisker. But that shouldn't be a deal-breaker. It's perfect for a one-time watch. (3.5/5)
Khaleej Times: The film is in the horror comedy genre like 'Go Goa Gone' (by the same producer) but sadly doesn't do justice to either genre -- horror or comedy. It is just a ridiculously long film that could have been short by 10-15 minutes. With no coherent screenplay, skilled actors like Rajkummar Rao and Pankaj Tripathi can't do much to salvage the film. Maybe they should choose better for their fans. At just over two hours, 'Stree' is a tedious watch that makes you yearn for the exit for most of its screen time. (1.5/5)
Masala.com: Rajkummar is earnest as always. However it is Aparshakti Khurana (Bittu) and Abhishek Banerjee (Jana) who steal the show. Aparshakti not only rocks the small town accent but also looks convincingly scared. His comic timing and his dialogue delivery shows he is at par with Rajkumar or even better. Abhishek as a nerdy friend looks like he belongs to Chander, the town where the film is set in. Shradha Kapoor is a misfit. We have no clue where she comes from and what she does. Hence she doesn't speak the same language or share similar sensibilities and looks the odd one out. Overall, Stree is boring, slow and stretched. But a few fun jokes and the overall light-hearted treatment makes it a bearable watch. (2.5/5)
NDTV: Stree plays an unwavering hand in demonstrating that dread can be unbridled fun when it serves a larger thematic purpose. Go watch this spine-tingling film. It is completely madcap but there is method in its manic madness. (3.5/5)
The Indian Express: But still, Stree is enjoyable for the most part. I particularly liked its cheerfully hare-brained spirit, which the director manages to sustain. Kapoor's part is a bit risible, but she has some breathy moments with Rao. The three fellows feel like real friends, not just brought together by a casting director, and both Khurrana, who is sprouting from everywhere these days, and Banerjee do a good job of looking scared and foolish at the same time. Rao, whose Bicky seems like an extension of his Bareilly Ki Barfi avatar, carries the film: as a 'ladies tailor' whose eye is enough to take the measure of the woman in front of him, gently, he is terrific. (2.5/5)
Hindustan Times: I wish the first half of Stree made me laugh more often, and I wish the second half — which is quite outrageously quirky — was plotted more cleverly. The film hurtles toward a messy climax that feels like a cop-out, because of cheesy predictability but more because the red herrings used in the film may have led to more satisfactory outcomes. There is a character, for example, who seems to be speaking to a dead woman on the phone, but nothing is made of this. (3/5)
DNA: If you're in the mood for some humour, go for 'Stree'. When things get scary, just close your eyes but don't miss the dialogue. It's witty and winsome. (3.5/5)