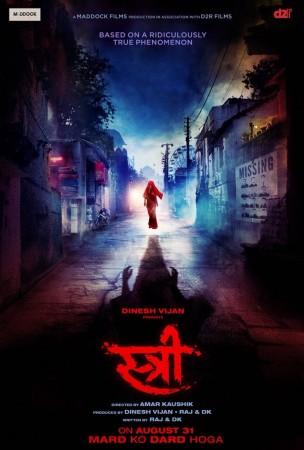 The makers of upcoming movie Stree have released the teaser of the film, and it has got everyone's attention for the right reasons. The teaser of the horror comedy is scary enough to give you the chills.
"Based on a ridiculously true phenomenon," Stree features Rajkummar Rao and Shraddha Kapoor. The first poster of the film showed a female figure wearing a red saree floating mid-air at a deserted street.
While the poster itself was hair-raising, the teaser of the film is even more spine-chilling. The teaser showed the camera passing through a lonely locality with one line "O Stree kal aana (Hey Stree come tomorrow)" written on every house wall.
At the end of the teaser, a woman with disfigured feet is seen hanging in midair. While the teaser of Stree certainly looks scary and interesting, the real story behind the movie is even more horrifying.
The film is based on an urban legend "Nale ba" from the city of Bengaluru during the 1990s. It is believed that a witch used to haunt Bangalore before it was urbanized like it is today. According to the popular belief, a witch used to roam around the city at night and knock on random doors.
She used to call the name of the person inside in the voice of a known person, and if the victim would open the door, he or she would die. This horrifying tale had spread like wildfire, and it had struck the city with sheer panic.
People then came out with an apparent solution by which, they would write "nale ba" (meaning 'come tomorrow' in Kannada) on the house doors. It was believed that the witch would leave the door without knocking or calling after reading the words, only to come the next day, and the same would repeat.
Well, this horrifying story would certainly make fans even more curious to watch Stree, isn't it? While the urban legend is from the city of Bangalore, the film is set in a small village called Chanderi in Bhopal.
Watch Stree teaser below: