Porn star Stormy Daniels in her 60 Minutes interview with Anderson Cooper made some revelations about her alleged affair with US president Donald Trump. The adult film actress said their affair began in 2006 when Trump's wife Melania was pregnant with son Barron.
Daniels, who had a months-long affair with Trump, said that she spanked him and later Trump compared her to his daughter. When Cooper asked the porn star whether she asked him to turn around and take off his pants, she said yes.
"Yes. So he turned around and pulled his pants down a little -- you know had underwear on and stuff and I just gave him a couple swats," she told Cooper.
She added that this was done in a joking manner, but from that moment he had changed. When the host asked her how he changed, she said Trump started talking to her and it became more comfortable.
"Yeah. He was like, "Wow, you-- you are special. You remind me of my daughter." You know-- he was like, "You're smart and beautiful, and a woman to be reckoned with, and I like you. I like you," she said.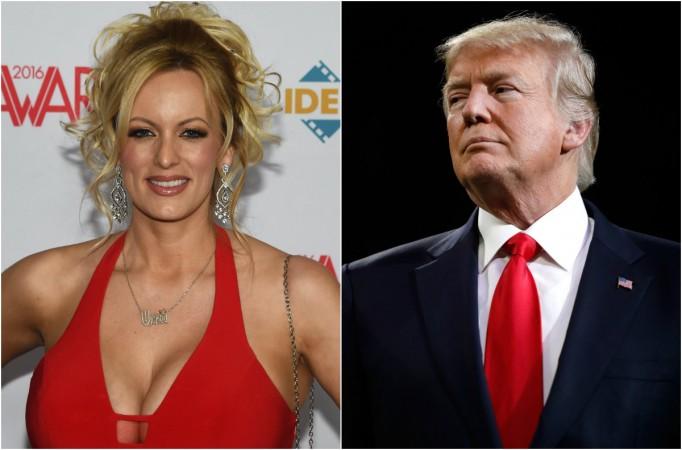 Daniels, whose real name is Stephanie Clifford, revealed that Melania and Trump stayed in separate rooms.
"I asked. And he brushed it aside, said, "Oh yeah, yeah, you know, don't worry about that. We don't even we have separate rooms and stuff," she said when Cooper asked her about Melania giving birth to a son at that time.
The porn star also said that in 2011 a mystery man threatened her in a parking lot in Las Vegas, US, and asked her to refrain talking about Trump.
"I was in a parking lot, going to a fitness class with my infant daughter. T-- taking, you know, the seats facing backwards in the backseat, diaper bag, you know, gettin' all the stuff out. And a guy walked up on me and said to me, "Leave Trump alone. Forget the story." And then he leaned around and looked at my daughter and said, "That's a beautiful little girl. It'd be a shame if something happened to her mom." And then he was gone," she added.
She said in 2011 she had decided to sell the affair story to a magazine for $15,000 and after that, the mystery man threatened her. The magazine refused to run the story after Trump's lawyer Michael Cohen threatened to sue the magazine.
In January, Daniels drew flak after she revealed that Trump's lawyer paid her $130,000 to not talk about the alleged affair. She filed a lawsuit last month to null the agreement and offered to pay the money back to Cohen.