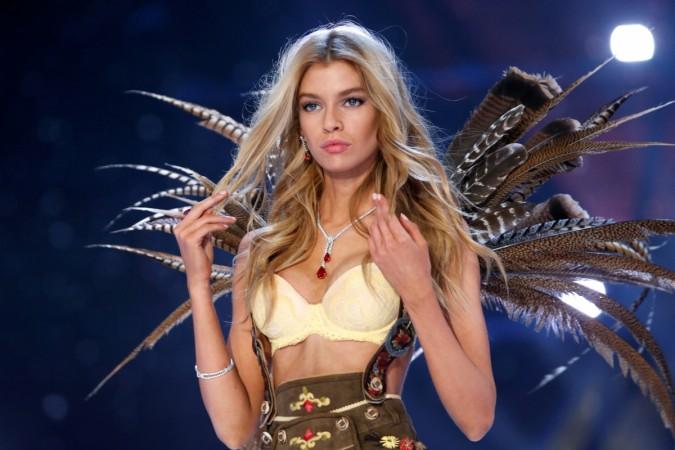 Photographs of Victoria's Secret model Stella Maxwell's recent photoshoot for the lingerie giant has found its way online and it shows her flaunting her curves in an array of sexy lingerie.
Also read: Kylie Jenner eager to marry Tyga to stop him from cheating?
In one of the pictures, the British model is seen showing off her pert butt in a pair of pale pink underwear with black border. Another photograph has her leaning against the wall in a mocha coloured lace bra and underwear.
Mellow yellow A post shared by Stella! (@stellamaxwell) on Jan 20, 2017 at 8:35pm PST
The 26-year-old has been busy lately taking part various fashion weeks. However, what got her media attention last week was her unfortunate wardrobe malfunction during Milan Fashion Week. She ended up flashing her nipples when she posed for photographs on her way to the Moschino runway show. Maxwell was wearing a blue pyjama-style suit with a belt at the waist and at an angle, it was evident that the model had ditched her bra.
The Victoria's Secret model remained unfazed by the dress disaster as this is not her first wardrobe malfunction. In September 2016, she had accidentally flashed her nipple in a plunging print dress on the way to a party in London.
On the romance front, Maxwell is currently dating Robert Pattinson's ex Kristen Stewart. In late January, Maxwell and Stewart confirmed their relationship after they were photographed kissing in the back of a car.
Commenting about their romance, a source told People: "Kristen also seemed very happy with Stella around. They weren't affectionate, but definitely acted very friendly and like they had the best time hanging out. Stella seems very easy going. She is always very smiley and has a cute personality."