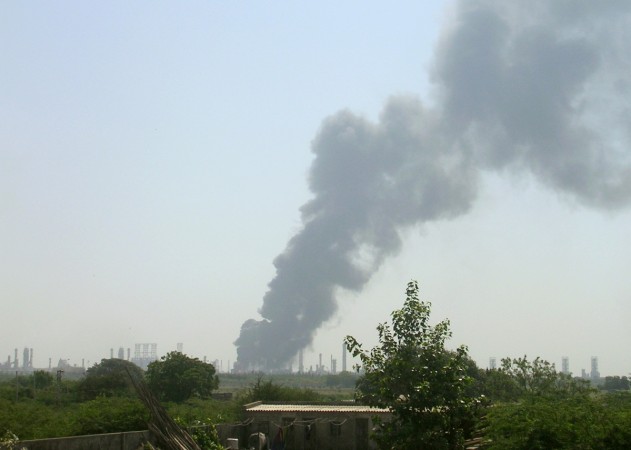 State-owned oil refiners are planning to set up a large oil-processing plant that could rival the facility run by Mukesh Ambani's Reliance Industries Ltd. at Jamnagar, even as the global crude oil prices fall to more than a decade lows.
The oil companies will invest more than Rs 1 lakh crore in setting up India's biggest refinery on the west coast, Minister of State for Petroleum and Natural Gas Dharmendra Pradhan tweeted on Monday.
The plant will have a refining capacity of 60 million metric ton a year (1.2 million barrel a day), which will be build by the country's largest refiner Indian Oil Corporation, along with Bharat Petroleum Corporation, Hindustan Petroleum Corporation and Engineers India Ltd., according to the minister.
"Refinery to be built in 2 phases (40+20 million tonnes); 1st phase will have more than Rs 1 lakh crore investment (biggest in India)," Pradhan said.
"Govt of Maharashtra and Ministry of Petroleum and Natural Gas will closely work for early identification of land for refinery and finalisation of details of project," he added.
The investment comes at a time when energy companies in most parts of the world resort to spending cuts amid falling crude oil prices. India is expected to emerge as a key driver of global energy demand from 2025, according to the International Energy Agency (IEA).
"Such huge capacities require huge investments and individual existing balance sheets can't take that kind of risk," Bloomberg quoted K. Ravichandran, a senior vice president at ICRA Ltd. in New Delhi, as saying.
"State refiners coming together for such a project makes lots of sense," he said.
Currently, global crude oil prices trade at 12-year lows, as concerns over supply glut have intensified after removal of sanctions on Iran recently.
India's oil consumption will occupy a quarter of global energy demand growth by 2040, the IEA had said in November in its annual energy outlook. The Paris-based agency said that the country's oil demand is projected to rise to 10 million barrels a day over that period. Currently, India has an oil refining capacity of 4.3 million barrels a day.
The plant to be built by oil companies will produce gasoline, diesel, liquefied petroleum gas, jet fuel and supply feed stock for petrochemical plants in Maharashtra, Pradhan said.
The two refineries, the world's largest refining complex, operated by Reliance Industries at Jamnagar in Gujarat have a combined capacity of 1.24 million barrels a day.
"In years to come, India will import products if capacity is not augmented," said Deepak Mahurkar, leader for the oil and gas team at PricewaterhouseCoopers in India. "Availability of domestic and export markets make room for more capacity."