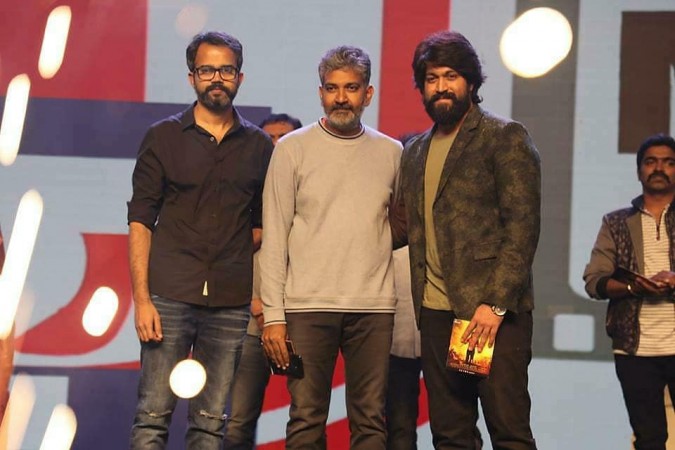 Baahubali director SS Rajamouli revealed that Kannada actor Yash and producer Vijay Kirgandur sought his help to make KGF a pan-India film and he is happy that their wish has been fulfilled.
KGF is a Kannada movie that is dubbed and released in Hindi, Tamil, Telugu and Malayalam with the same name on the same date. Producer Sai Korrapati of Eega fame has acquired the rights of its Telugu version and he held a pre-release event as part of its promotion and SS Rajamouli was the chief guest at the function.
Addressing the pre-release event of KGF, SS Rajamouli heaped praises on actor Yash's father. The director said, "Few months ago, I was talking to Sai Korrapati and I asked him who is the top star in Kannada films? He said that a youngster named Yash has come and he is delivering hit after hit."
SS Rajamouli added, "When I quizzed him about his background, Sai said that he is a son of a bus driver. Today, a bus driver's son has become a top star in Kannada films. Another interesting aspect that touched my heart was that he is working as a bus driver even after making his son a superstar. I felt that his father is bigger superstar than Yash. Hats off to his father."
Speaking about making KGF a pan-India film, SS Rajamouli said, "In April 2018, I was in Taj Hotel, Bangalore, where Yash met me with KGF team. He requested for two minutes time to show the visuals of KGF. That is when I watched the visuals of KGF for the first time. I was truely blown away. I was amazed by the quality of visuals, the team's effort and moreover the originality of the visuals."
The director added, "They said they wanted to make it a pan-Indian film. I felt very happy that KGF has a subject that is appealing to viewers across the country. I had immediately called Anil Thadani (Baahubali's Hindi presenter), Shobu and Sai and asked them to help KGF team. The rest of the story is history. Today I am truly happy that KGF is releasing not just as a Kannada film, but as a pan-Indian film."
Rajamouli described KGF as a team effort. He said, "If you want to get such rich visuals, big budget or superstar's callsheet is not enough, but a complete team work is needed. Looking at the visuals, I feel that all the team members have really worked hard to get this product out. Telugu audience have always accepted good product irrespective of language. I wish KGF will impress them and become big hit in the Telugu states."