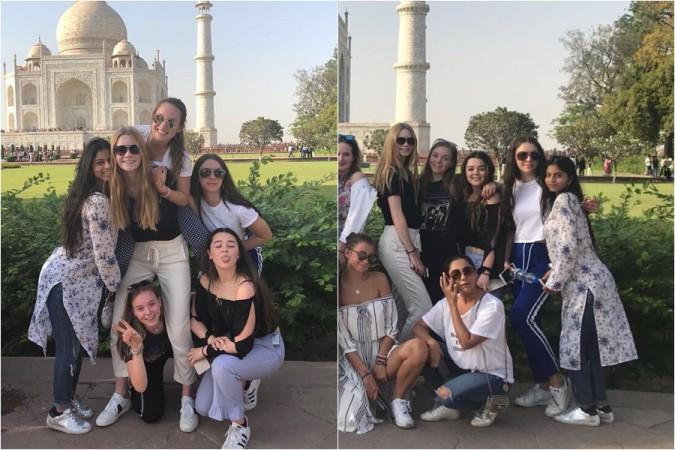 Shah Rukh Khan's daughter Suhana Khan recently got trolled for sporting a bikini while enjoying in a swimming pool with her friends. And now, the teenager has been slammed for jutting her butt out while posing in the pictures when she recently visited Taj Mahal, one of the seven wonders of the world, with her mother Gauri Khan and her girl gang.
The 17-year-old star kid was seen having a ball with her friends and posed happily for photographs in front of the historical monument. She was seen wearing a floral white kurti and a pair of denims. She let her long locks down and looked beautiful in the pictures. Her mom Gauri Khan took to social media to post the pictures from their trip and they soon had gone viral on the internet.
But instead of praising her, trolls objected to Suhana's pose where she was seen pushing her butt out in a couple of her pictures. They started throwing nasty comments on the teenager and called her style cheap.
A troll requested Suhana to pose in a decent way in all her pictures while others advised her to learn how to pose for a picture. One user even went on to call Suhana a maid of her tourist friends while others slammed SRK's daughter for trying too hard to show her booty.
Some termed it as cringe pose while others commented that Suhana looked very unattractive in the post.
Like her superstar dad, Suhana also enjoys a huge fan following and is an internet sensation thanks to her stunning pictures which keep cropping up regularly on social media.
Her mother Gauri Khan recently revealed about Suhana's first project and said, "Suhana will be shooting for a magazine, I don't want to reveal the name, and that's the most exciting thing I am looking forward to."
Her dad Shah Rukh Khan, who has always been vocal about Suhana and her career choices, had told DNA, "Suhana wants to be an actress. I see that zeal in her. She's extremely good on stage, I've seen her performances. She's admittedly a cinema fan and wants to be in the industry. But my point is simple - you need to complete your education before doing anything. That's the only thing I have told my children. Otherwise, they are free to be in the film industry, not be in it and do whatever they like. I will be supportive of whatever they want to do."