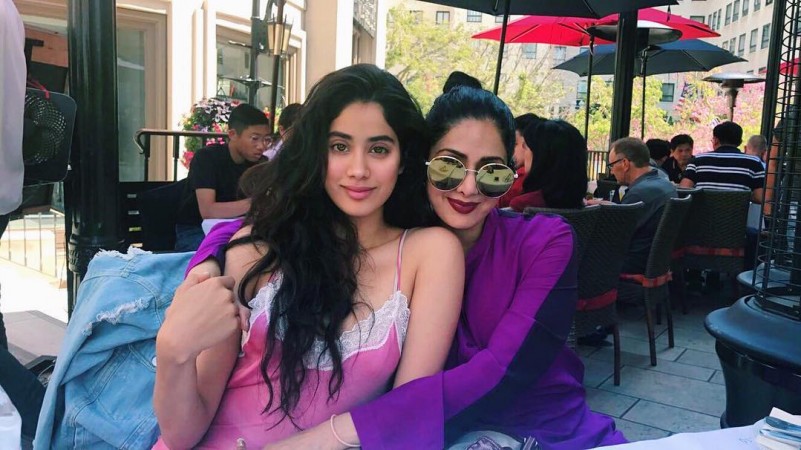 Sridevi's death is a tragedy that shook the entire nation. The legendary actress, at 54, died at the Jumeirah Emirates Towers hotel in Dubai. The cause of death was ruled to be accidental drowning.
But what's more tragic is that the actress, who had sacrificed her acting career to raise her two daughters Janhvi Kapoor and Khushi Kapoor, couldn't see the elder of them make her debut in Bollywood.
While the entire country is mourning her loss, we stumbled upon a heartfelt letter on social media penned by Janhvi to her mom Sridevi a few years ago. The letter was shared by Tanya Chaitanya, Femina editor, on her Instagram.
Read the letter here:
"Dear Mom,
Growing up hearing about your aura, dedication, sincerity and inspirational grit to be the best and achieve the most always made me wish I was present to witness it all. Through all that you have done in your life, you have made me the proudest daughter in the world, and I love you the most.
Your daughter, Janhvi."
Sridevi, in an interview with DNA last year, revealed that while Khushi was closer to her father Boney, Janhvi was closer to her. She said though her daughters are very independent, they need her from time to time, and Janhvi needs her around more than Khushi.
Sharing a memory from her childhood with her mom while talking about her two daughters, Sridevi said: "Janvi, I feel is more like me — absolutely obedient.
"I remember... once my mom narrated an incident about me to her friends. She had asked me to sit on the compound wall of our building as she was talking to the neighbors. Suddenly, she realized she had left something in the kitchen, so she told me, 'Sit here. I will just come.' She went and got busy with other things and after two hours, she remembered that she left her daughter sitting on the wall. She came running out to meet me and found me sitting quietly in the same position she had left me! My mother asked me, 'Why didn't you call out to me?' I said, 'But you told me to sit here...' She told everybody this story about what an obedient child I was.
"At the same time, Khushi is also obedient, but will not sit on the wall for two hours, but I think Jaanu will... Both my children are extremely attached to us. Janvi seeks more attention from me while Khushi can manage things on her own. Though Janvi's grown up now, sometimes I still have to feed her. She won't eat properly at certain times so I have to make sure that she eats properly. Sometimes she tells me to put her to sleep so all these nakhras she does. Khushi has always been a very independent person right since childhood."
Janhvi Kapoor is currently shooting for her upcoming film Dhadak, which is slated to release on July 6, 2018. But sadly, Sridevi's dream of seeing her elder daughter on screen will remain unfulfilled forever.