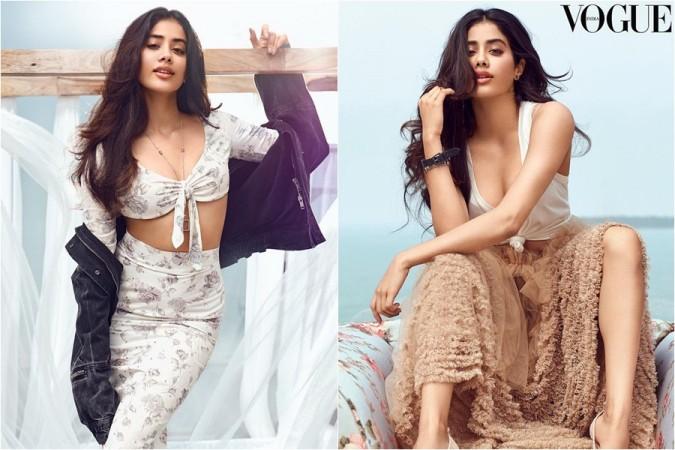 Sridevi's daughter Janhvi Kapoor, who is all set to make her Bollywood debut with Karan Johar's Dhadak, is now the face of Vogue's June 2018 issue.
Cousins Sonam Kapoor, Rhea Kapoor, Arjun Kapoor, Anshula Kapoor and others have been congratulating the debutant for her first ever magazine cover. But people on social media are not so pleased with it and didn't find Janhvi worthy of appearing on the magazine cover.
While the magazine cover was unveiled a couple of days ago, Vogue has now shared a few pictures from the photoshoot which are spreading like wildfire on the internet. Many are extending their support to the aspiring actress but quite a few are also expressing their displeasure on social media.
People have been pointing out the fact that Janhvi got the opportunity only because she is Sridevi's daughter and not because of her achievements or contribution to the entertainment industry.
"Do something then u deserve to be in cover page of Vogue u get. everything just because of ur background[sic]," an Instagram user commented while shouting sheer nepotism.
Many slammed Vogue for forcing Janhvi on their faces saying she was not deserving at all adding that there are other more deserving contenders out there. They also urged the magazine to give chance to ordinary people sometimes and stop spending their time in making famous people famous.
"U only make famous a 'famous'.. is vogue is only about these famous personalities.. Gv plc to some ordinary people at times.. afterall an ordinary is also in vogue [sic]," a user commented.
Another user said that she would be happy to see Sridevi's daughter Janhvi on the cover in future after proving herself worthy of it.
"She had a lot to prove before getting onto the cover of Vogue. I'll be glad to see her on Vogue in future but for the time being she shouldn't be," the user commented.
"She's not good looking so she's trying to cover it up by being sexy," another user commented while the other wrote, "We really didn't understand the reason of covering her."
Meanwhile, check out Janhvi Kapoor's Vogue photoshoot.