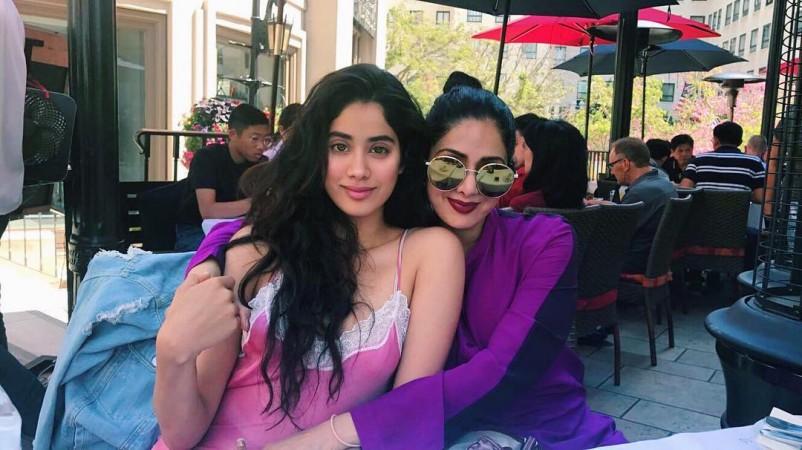 Sridevi's daughter Janhvi Kapoor is all set to make her debut on the big screen with her upcoming film Dhadak, also starring Ishaan Khatter. The film is directed by Shashank Khaitan and produced by Karan Johar's Dharma Productions.
Recently, Karan Johar had spoken to Janhvi for an interview for Vogue India's June edition. She revealed that her mother had watched 25 minutes of Dhadak and she was happy with her performance but she gave her one advice.
"She was very technical about it. The first thing she told me was the things I needed to improve -- she felt the mascara was smudged and it really bothered her. The second half has to be different, she told me... 'You can't wear anything on your face.' That's all she told me, but she was happy," said Janhvi.
Janhvi and her younger sister Khushi Kapoor are becoming really popular. The paparazzi keeps a close eye on what the sisters wear and where ever they go.
"It's flattering that anyone would care what I look like after the gym. I feel like I haven't done anything to earn that attention, so I don't know how to react. Should I smile and wave because they've been waiting and it's courteous? Or should I hide because I'm sweaty?" Janhvi asked.
Karan said that Janhvi and Khushi have emerged as "teen fashionistas" who are unknowingly setting trends. Janhvi talked about how the three ladies would bond over their fashion choices.
"We love clothes and are roughly the same size. We enjoy dressing up. Papa would call us 'three women on a mission' when we shopped. He has always been very into our look -- he would approve them or make us change. And all of those photos of mom and me before events? He clicked them," she said.
Janhvi spoke a lot about her late superstar mother Sridevi and it seems like she was not only her mother but also her best friend. Dhadak is set for release on July 20.