Who says the Sunrisers Hyderabad batting is just about David Warner.
Yuvraj Singh turned back the clock one more time, Shikhar Dhawan showed some semblance of form, Moises Henriques played an outstanding knock, and SRH, despite losing Warner in the second over of the IPL 2017 opener against RCB in Hyderabad, posted 207 runs in their 20 overs.
RCB fell short of the target, but despite Kohli and De Villiers missing this match through injury, and Gayle only scoring 32, the Royal Challengers did reasonably well with the bat, eventually getting bowled out for 172.
Gayle, though, did give RCB the start they needed, smoking sixes at will, with Mandeep Singh, at the other end, impressing as well.
The two openers put on 52 in 5.4 overs, to give RCB the platform they needed, and while both Mandeep (24, 16b, 5x4) and Gayle fell in fairly quick succession, the start was there for RCB to make a fist of this chase.
Mandeep's wicket was a pretty historic one, with Rashid Khan becoming the first Afghanistan player to play in the IPL and also becoming the first man from the country to take an IPL wicket, off his first over, when the RCB batsman chopped one on – he would get one more to complete a satisfying debut.
Gayle (32, 21b, 2x4, 3x6) holed out to Warner at long-off off the off-spin of Deepak Hooda, but RCB stayed in touch with the required rate, thanks to a nice partnership from Travis Head, who came in at No.3, and Kedar Jadhav.
Head and Jadhav allied for 56 runs in 5.1 overs, and just when Warner was scratching his head, trying to figure out how to break the partnership, he was bailed out by a brilliant piece of work from Ben Cutting, who threw down the stumps from the deep to leave Jadhav (31, 16b, 4x4, 1x6) short of his ground.
Rashid was brought back soon after by Warner and he obliged by picking up Head (30, 22b, 3x4), leaving RCB needing 82 from the final seven overs.
Shane Watson (22, 17b, 1x4, 1x6), the skipper in Kohli's absence, have it a decent go, but SRH cruised home in the end.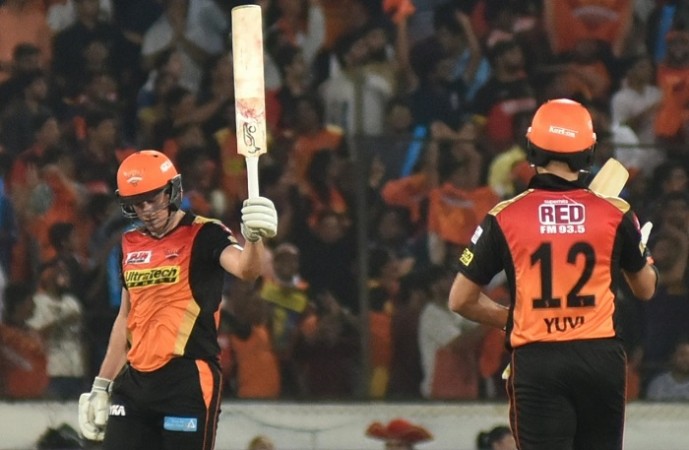 Earlier, Warner got things going nicely, cracking a boundary through the offside off the first over of the innings, bowled by Tymal Mills, before taking a bit of a liking to Aniket Choudhary, bought for Rs 2 crore by the RCB in the auction the February auction.
It looked like we were in for another Warner special to open up IPL 2017, but the left-hander gave his wicket away, just lobbing up a catch to Mandeep Singh at backward point, to give Choudhary a wicket on his debut.
SRH have been vulnerable when Warner (14, 8b, 2x4, 1x6) gets out early, so RCB might have scented a way through this batting lineup. However, Dhawan and Henriques kept the momentum up, while also ensuring the middle order would not be put under pressure early by putting up a brilliant 74-run partnership.
The two played smart cricket, not taking too many risks, while keeping the run-scoring moving along nicely, which meant the pressure stayed on the RCB bowlers.
While Dhawan struck 40 from 31 balls (5x4), and while it was a really crucial innings, the left-hander still looked a little out of touch. Apart from that one over off Watson, when the opener struck the RCB captain – Virat Kohli watched from the dressing room – for four boundaries, Dhawan still looked like he was looking for his touch of old, with a couple of shots just lobbing over the field or landing in no man's land.
However, he stuck around in the middle, and that partnership set the tone for the SRH innings, with Yuvraj, after Dhawan holed out in the deep, coming in and keeping the momentum going.
While Dhawan's innings was, at times, scratchy, Yuvraj's was a lot better, with the ball hitting the middle of the bat quite frequently, much to the delight of the capacity crowd at the Rajiv Gandhi International Cricket Stadium. Yes, there was a drop, with S Aravind grassing a sitter when the left-hander was on 26, but his innings – his highest for the Sunrisers Hyderabad and his fastest fifty, off 23 balls, in the IPL – was sheer class.
Yuvraj, playing against his former team, and Henriques, one of SRH's underrated cricketers, added 58 in less than five overs to keep SRH on target for a 200 or thereabouts score, with only Yuzvendra Chahal able to keep the plug in on the scoring.
Chahal, unsurprisingly, was the man to break the partnership, as Henriques (52, 37b, 3x4, 2x6) was caught in the deep after an outstanding innings, however, much to RCB's chagrin, Yuvraj (62, 27b, 7x4, 3x6) continued on his merry way.
And with Deepak Hooda (16, 12b, 1x6) and his unconventional shots for company, along with some Cutting Edge right at the end, courtesy Ben Cutting (16, 6b, 2x6), SRH rolled the score along, all the way past 200.
Scores:
Sunrisers Hyderabad: 207/4 in 20 overs.

RCB: 172 all out in 19.4 overs.

Bowling: RCB: Tymal Mills 4-0-31-1; Aniket Choudhary 4-0-55-1; Yuzvendra Chahal 4-0-22-1; S Aravind 3-0-36-0; Shane Watson 3-0-41-0; Travis Head 1-0-11-0; Stuart Binny 1-0-10-1.

SRH: Ashish Nehra 4-0-42-2; Bhuvneshwar Kumar 4-0-27-2; Ben Cutting 3.4-0-35-0; Rashid Khan 4-0-36-2; Deepak Hooda 1-0-7-1; Moises Henriques 2-0-20-0; Bipul Sharma 1-0-4-0.

Result: SRH won by 35 runs.

Fall of wickets: SRH: 19/1, David Warner (1.4 overs); 93/2, Shikhar Dhawan (10.3 overs); 151/3, Moises Henriques (15.2 overs); 190/4, Yuvraj Singh (18.4 overs).

RCB: 52/1, Mandeep Singh (5.4 overs); 60/2, Chris Gayle (6.3 overs); 116/3, Kedar Jadhav (11.4 overs); 126/4, Travis Head (12.5 overs); 128/5, Sachin Baby (13.4 overs); 154/6, Stuart Binny (16.5 overs); 156/7, Shane Watson (17.3 overs); 156/8, S Aravind (17.4 overs); 164/9, Tymal Mills (18.5 overs); 172/10, Yuzvendra Chahal (19.4 overs).
Watch the highlights of the match