SpiceJet, which recently posted profit for the seventh quarter in a row and more than 100 percent in net profit for the second quarter (Q2) at Rs 59 crore, is likely to end the current fiscal with a 47.4 percent growth in its adjusted net profit at Rs 713.6 crore.
The low-cost carrier's adjusted net profit last financial year was Rs 484.1 crore (after adjusting for extraordinary losses of Rs 7.69 crore arising out of damages caused to its Bombardier Q400 aircraft).
Net sales is expected to grow to Rs 6,440 crore from Rs 5,088 crore, a jump of 26.5 percent while operating margins are likely to improve by 44 percent to Rs 1,784.5 crore, brokerage HDFC Securities said in a note.
On the flip side, intense competition from established players and effects of demonetisation may impact the company's in the second half of the current fiscal, according to the brokerage.
The share price of SpiceJet dropped 2.66 percent on Tuesday to close at Rs 64. In the past 18 months, the stock has gone up sharply from Rs 19.5 on June 1, 2015.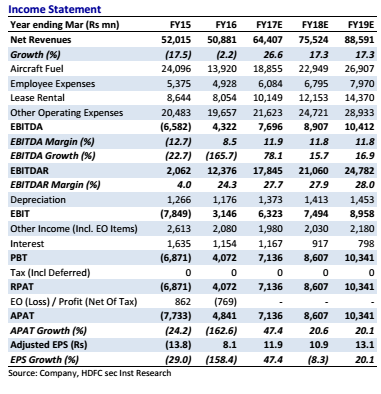 In a related development, the Mint reported that SpiceJet is likely to give stock options to its employees. "We are working on ESOPs (employee stock ownership plan)," the business daily quoted Ajay Singh, chairman of the company, as saying. The carrier has about 6,400 employees.