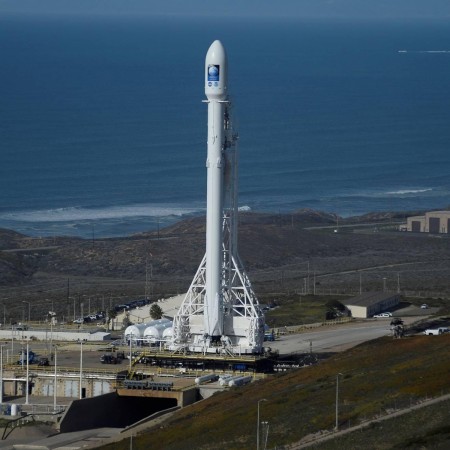 SpaceX has postponed the launch of its Falcon 9 rocket till Saturday, January 14, 2017. The rocket was initially scheduled to make its our return to flight mission on Monday, January 9, 2017.
Also Read: Apocalypse avoided: Earth just escaped an asteroid hit! And you weren't even aware of it
The reasons behind the five-day delay are a clash in schedules at the company's California launch site, along with weather issues like rain and high winds.
This launch hold-up of the Falcon 9 was tweeted by SpaceX officials on Sunday, January 8.
"Launch moving due to high winds and rains at Vandenberg. Other range conflicts this week results in next available launch date being Jan 14," SpaceX representatives stated on a Twitter post.
SpaceX was planning to send 10 Iridium NEXT satellites on board Falcon 9 from California's Vandenberg Air Force Base.
The satellites are hoping to improve communications.
The Falcon 9 rocket is designed to carry heavier payloads and a higher number of passengers to the moon and eventually Mars.
The Falcon 9 rocket was set to be launched on September 1, 2016, at the Cape Canaveral Air Force Station in Florida, but it ended up when it ended up exploding during a static fire test. Israel's Amos-6 communications satellite was also destroyed in the explosion.
The explosion occured after the aluminum liner of the composite-overwrapped helium tank in Falcon 9's upper stage liquid oxygen tank buckled causing liquid oxygen to pool between the aluminum liner and carbon overwrap, SpaceX representatives stated.
Modifications made to the helium-loading process have been made by SpaceX in order to avoid a similar event from occurring again.
The company restarted the Falcon 9 spacecraft program more than four months after the explosion took place.
A launch license was issued to SpaceX by the Federal Aviation Administration (FAA) on January 6 for its forthcoming Falcon 9 missions. The founder of SpaceX, Elon Musk tweeted:
Hold-down firing of @SpaceX Falcon 9 at Vandenberg Air Force completed. All systems are go for launch next week.

— Elon Musk (@elonmusk) January 5, 2017