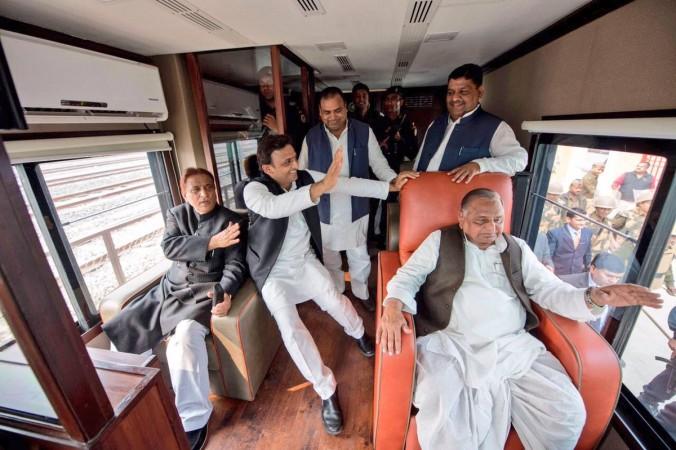 The family feud within the Samajwadi Party (SP) continued to rage on, on Sunday, January 8, with party co-founder Mulayam Singh Yadav saying he was the true party chief and that son Akhilesh Yadav was merely the chief minister of Uttar Pradesh.
This comes a day after Akhilesh provided seven boxes of "evidence" to the Election Commission (EC) to claim that he was indeed leading the faction within the party that could be honestly called the SP, because he had the most number of MPs, MLAs and MLCs on its side. The two factions – led by Mulayam and Akhilesh – are currently locked in a tussle over who should get the party's poll symbol, the bicycle, for the upcoming Uttar Pradesh Assembly elections.
Speaking to reporters about affairs within the SP, Mulayam said on Sunday: "I am national president of the SP, and Akhilesh is the chief minister of UP." He was also quoted by IANS as saying: "[SP] general secretary Ram Gopal Yadav had been expelled from the party for six years and hence had no right to call the national convention." This national convention had been the bone of contention between the two factions, and was one of the things that led to the division of the SP.
Both factions have since then been trying to one-up the other. Only recently, Akhilesh rendered his father Mulayam and uncle Shivpal Singh Yadav financially disabled by asking banks to freeze all accounts belonging to the SP, which were until now being accessed by Shivpal. The move means Shivpal has lost access to the more than Rs 500 crore stored in them — at least until the accounts are unfrozen — and therefore cannot turn supporters of Akhilesh with the lure of money.
The UP Assembly elections will take place in seven phases – on February 11, February 15, February 19, February 23, February 27, March 4 and March 8. The votes will be counted on March 11, along with that of the other poll-bound states.