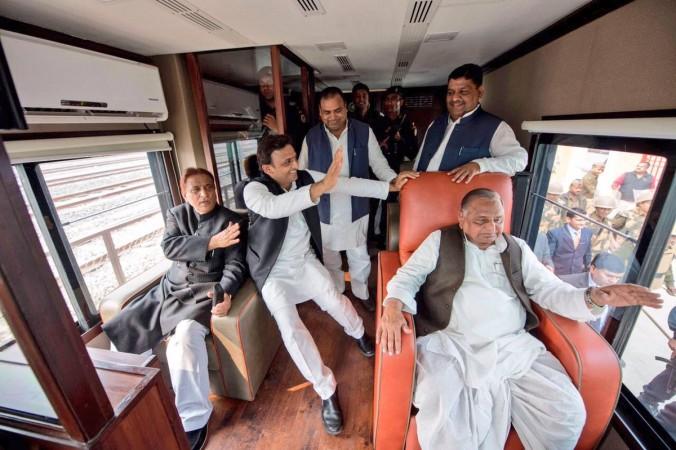 The ongoing feud in the Samajwadi Party (SP) saw a number of twists and turns on Monday, as Uttar Pradesh Chief Minister Akhilesh Yadav emerged on top in the tussle to display his power within the party. However, the day also saw his loyalist Ram Gopal Yadav being thrown out of the party yet again by Akhilesh's father Mulayam Singh Yadav.
Several more developments are expected to happen on Monday as each faction within the SP looks to establish legitimacy by claiming the party's official poll symbol — the bicycle — for itself. Will Mulayam bounce back, or will Akhilesh plant himself at the top of the regional behemoth?
Here are live updates from battleground SP on Monday, January 2, 2017:
4:35 pm IST: Mulayam Singh Yadav, Amar Singh and Jaya Prada have now left Mulayam's Delhi residence, and are going to visit the EC office in order to get the SP's election symbol for themselves.
4:15 pm IST: Expelled SP leader Ram Gopal Yadav has been given an 11:30 am appointment on Tuesday by the EC.
3:30 pm IST: Prime Minister Narendra Modi just slammed the feud within the SP while speaking at a Parivartan rally in Lucknow. "The internal politics of a party should remain within it, and not come outside and affect the public. It is unfortunate that development is not priority for the rulers here," he said. Read what else he said about the SP and other political parties.
1:40 pm IST: Former chief election commissioner SY Qureshi has said that neither faction of the SP may get the bicycle as the election symbol as the elections are close. He told ANI that because the elections are so close, the bicycle as an electoral party symbol may be frozen and "both factions will be given ad hoc names and symbols."
1:05 pm IST: Now Jaya Prada is at Mulayam's Delhi residence, joining him and Amar Singh for talks.
1 pm IST: Amar singh has reached Mulayam Singh Yadav's Delhi residence. The two are now expected to talk over the current political situation, and then head to the EC office to stake claim to the SP poll symbol
12:10 pm IST: Naresh Agarwal — another SP member expelled by Mulayam — echoes Nanda. He says Shivpal and Amar Singh want to sink Mulayam.
11:30 am IST: Kiranmoy Nanda — the West Bengal-origin politician whom Mulayam expelled from the SP recently, says Amar Singh does not reside in Mulayam's heart, but wants to break it.
Meanwhile, Shivpal has reached Mulayam's residence.
10:55 am IST: Amar Singh continues to show his support for Mulayam, saying: "He once said: 'Amar Singh is not in my dal (party) but in my dil (heart). It will be a sad day when he expels me from his heart. The party has no importance for me.
10:50 am IST: Shivpal Singh Yadav says brother Mulayam is national president of the SP at this time, and "I will be with him till my last breath."
Meanwhile, Amar Singh says: "If I was by his side and became a hero once, I have no qualms in becoming the villain by continuing to do so."
10:40 am IST: Mulayam and Amar Singh are expected to visit the Election Commission office at 2 pm to stake claim to the SP election symbol. This could be one of the several reasons behind Mulayam's Delhi visit.
Mulayam tells reporters that the SP's election symbol is his signature. Amar Singh says he is and will always be by Mulayam's side.
10:20 am IST: Mulauam Singh Yadav has denied reports that he is unhealthy. He also says the news media has always been with him, and that he has never partaken in corruption, and has been cleared of wrongdoings by the Supreme Court.
He is now expected to go to Delhi soon. Who he will meet there or what he will do is not clear yet.
10:05 am IST: Akhilesh has now called a meeting of party MLAs at 11 am.
9:30 am IST: Akhilesh Yadav is expected to approach the Election Commission of India (EC) later in the day to claim the SP's official poll symbol — the bicycle — for himself.
9 am IST: Snubbed SP leader Shivpal Singh Yadav tweeted on Monday morning that his brother Mulayam Singh Yadav had cancelled the national convention of the party that he had called on January 5. He also urged party workers to concentrate on their individual constituencies to ensure electoral wins for the SP in the upcoming elections.