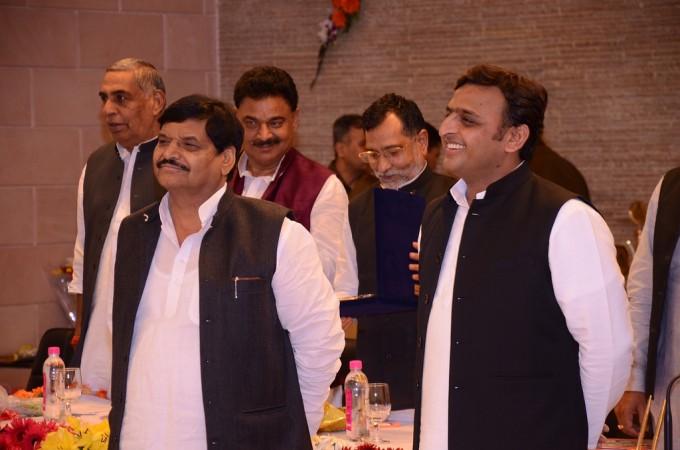 Uttar Pradesh Chief Minister Akhilesh Yadav, in what seemed to be an act of defiance, released his own list of 235 candidates for the upcoming Assembly elections late Thursday evening, hours after his father and Samajwadi Party chief Mulayam Singh Yadav put out his list.
Akhilesh's list includes several names that do not feature in the list issued by Mulayam. The Indian Express quoted a minister as saying that these candidates would contest the Assembly elections in 2017 "in the name of and as the face of Akhilesh."
Akhilesh met party leaders, who were not included in the list of 325 candidates released by Mulayam on Wednesday, separately following his meeting with his father and uncle Shivpal Singh Yadav. Following the meeting, Akhilesh released a list of 235 candidates — 171 sitting MLAs and 64 others for seats where the party lost in the 2012 elections — with his loyalists replacing the leaders on his father's list. The chief minister will declare the names of the remaining 168 candidates soon, a note released to the media stated.
However, the list released by Akhilesh seemed to have not gone down well with Shivpal who released another list with names of another 68 candidates. Sources in the party told the IE that Akhilesh was trying to convince his father to make changes to the list released by the party chief on Wednesday. If Mulayam did not make the changes, Akhilesh would release a separate list.
Forest Minister and Ayodhya MLA Tej Narain Pandey aka Pawan Pandey, who was not given a poll ticket by Mulayam but granted one by Akhilesh, told reporters after the meeting with the CM: "Kshetra mein jayenge, jeet ke aayenge. Akhileshji ko CM banana hai (We will go to the constituencies, and win to make Akhilesh CM again)."
The meeting at Akhilesh's residence included ministers Arvind Singh Gope and Ram Govind Chaudhary and 46 other MLAs who were denied tickets by Mulayam. All of them were given a ticket by Akhilesh later.
Tanda MLA Azimul Haque Pehalwan and SP youth leader and Akhilesh loyalist Atul Pradhan said that they would be contesting the elections since the chief minister has asked them to do so and has also assured them that the names of all candidates would be released soon.
Party workers shouted slogans supporting Akhilesh outside his and his father's residence. MLAs and party leaders who are putting their trust in Akhilesh to give them the election ticket arrived at his residence in the morning to meet him. Akhilesh assured them that he would take up the matter with Mulayam when he goes to meet him.