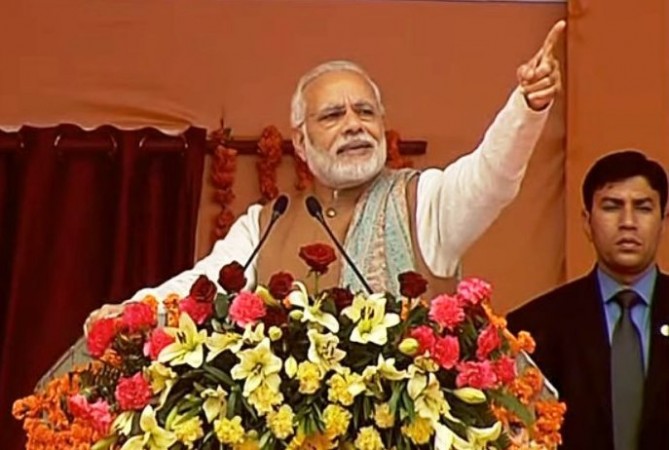 Prime Minister Narendra Modi on Monday promised to uproot corruption and black money from Uttar Pradesh if the BJP was voted to power in the state. He was speaking at a Parivartan rally in Lucknow, Uttar Pradesh, ahead of the upcoming UP Assembly elections.
He also said development had been absent in Uttar Pradesh for 14 years — the duration the state did not have a BJP government. Modi added: "For the fate of India to change, the fate of Uttar Pradesh should also change."
Speaking on the ongoing feud within the Samajwadi Party (SP), Modi said: "The internal politics of a party should remain within it, and not come outside and affect the public. It is unfortunate that development is not priority for the rulers here."
He also slammed the SP and the Mayawati-led Bahujan Samaj Party (BSP), saying they are united only in their opposition of him. He said: "They say remove Modi, I say remove black money. They say remove Modi, I say remove corruption. You decide what we want to remove."
He also took on the BSP and its plank of Dalit empowerment, saying: "Vote for the development of Uttar Pradesh, forgetting all caste and creed."
He then combined his attack on the SP, the BSP and the Congress, saying: "There are some political parties who have no influence in UP. One party has been trying to establish its son for 15 years, but in vain. Another party is looking to hide its black money, and looking for banks far and wide to do it. And then there's another that is too concerned with what will happen to the family."
The first was an oblique reference to the Congress and Rahul Gandhi, the second a reference to the BSP and Mayawati's brother's bank accounts coming under scanner, and the third was a reference to the feud within the SP.