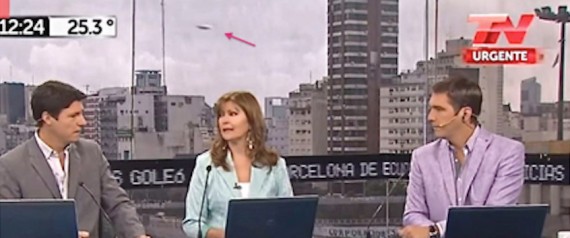 Around a month after a Peruvian television production crew filmed an unidentified flying object (UFO) at their shooting site in Lima, a disc-shaped object appeared behind the studio of Argentina TV news live broadcast.
The UFO was moving in high speed across the sky behind the studio where the anchors of Todo Noticias, aka TN, sit. TN is a cable news channel based in Buenos Aires, Argentina.
According to MysteriousUniverse.org, the news broadcast took place on 28 February. The anchors sit in front of a large window, behind which is an urban scene. A site named JMHZ71, on or around 1 March, had posted the video on YouTube and UFO enthusiasts have since then tried finding all possible explanations for the incident.
The YouTube video is below:
However, it seems like no member of the Argentinean TV production crew noticed the UFO. This points at various possibilities. One of the explanations can be that the large window might as well be a screen. But, if there really was a UFO, why has the channel not spoken about it. The channel has not even acknowledged the presence of a UFO in the video, and hence has not offered any explanation in this regard.
"I'm not completely convinced that the UFO was part of the original news broadcast, partly because this isn't the first time that I've seen an anomaly allegedly captured behind the cameras of an Argentinian news team," said Ben Hansen, the former lead investigator of the Syfy Channel's "Fact or Faked: Paranormal Files", The Huffington Post reports.
"My team went to Santa Cruz, Argentina, in 2011 to confront a news cameraman who finally admitted to using animation software to fake an alien creature walking in the background of an interview. In that case, the news station employee was responsible for adding the hoax to the video segment which eventually aired on their news broadcast," Hansen further said.
As mentioned earlier this is the second UFO sighting in South America in less than a month. No explanation for even the previous one has been given as yet.