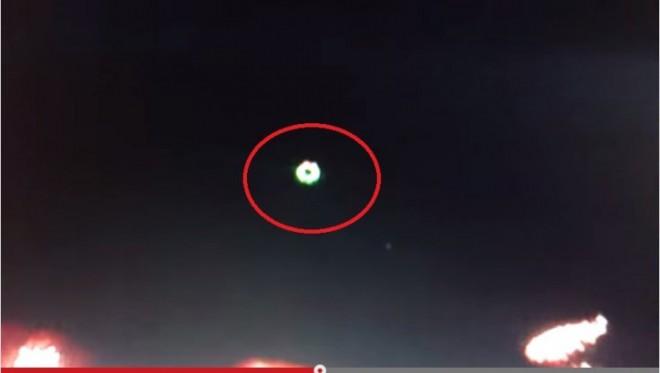 Reports of UFO sighting during New Year's celebrations are very common, mostly because of numerous people floating Chinese lanterns.
However, this year a very peculiar apparition was caught on camera amid New Year celebration and fireworks in London – an eagle eye-shaped flying object hovering over the London Eye.
BBC's New Year's Eve coverage video was uploaded on YouTube, in which the lit up unidentified object could be seen flying during the fireworks display. The light it emitted was bright green and its shape appeared to be circular or oval. It exhibited some similarities to the Huston UFO and many YouTube users believe it is not a Chinese lantern.
A YouTube commenter stated, "It's not uncommon for UFOs to be curious about our lights and electricity," Metro reports.
The unidentified object was seen flying in a strange arc from behind the London tourist attraction and then towards the opposite side of the River Thames.
The footage drew many speculators; with some arguing it could be a UFO while others saying it might just be a drone.
A UFO expert, Nigel Watson, told Metro: "What strikes me is that whether the UFO is a camera drone or not it catches your attention despite all the fireworks blasting off all around it."
"Whenever UFO stories and videos appear you get furious sceptics flocking to offer their opinion – that it's all rubbish. So why do they bother to read them and make the effort to comment?"
BBC has not commented on the matter as yet. Footage of BBC's New Year's Eve fireworks is below:
However, this is not an isolated incident of UFO sighting. NASA's video footage from the International Space Station also caught an unidentified object flying near the station.
UFO Sightings Daily reports that this is third such instance in which unusual activities were recorded near the space station.
"Just a few hours ago, this UFO was caught on live NASA cam. Its metallic color glimmers in the reflection of the sunlight and its hull stands out in blackness of space," Expert Scott Waring wrote on 1 January.
"This UFO was only a few hundred meters from the space station. I say that because of the detail on the UFO itself. For it to be in focus, it had to be close. This was caught by UFO researcher Streetcap1 of Youtube who keeps a steady eye on the live cams. I do believe Streetcap1 caught the 1st UFO of 2015."