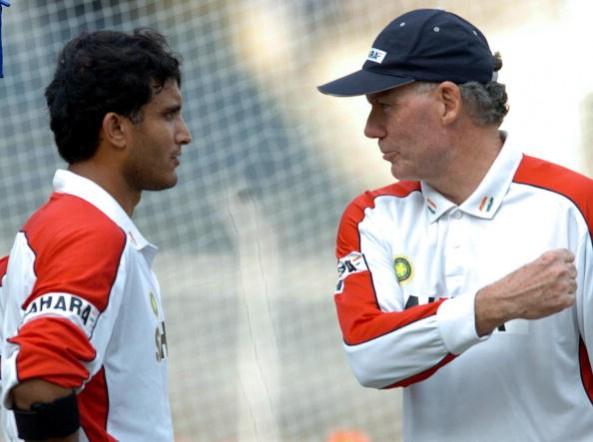 Former India captain Sourav Ganguly today (November 24) revealed how he was inspired by Pakistan legend Imran Khan's words when he was out of the national team following differences with coach Greg Chappell.
In the year 2005, Ganguly lost his captaincy and also a place in the Indian team. This was after several controversies with the then coach Chappell.
Also read: This viral photo of Rahul Dravid is winning hearts
On Friday, recalling that "tough" phase where he was out of the national side, Ganguly said he was inspired by former Pakistan captain Imran.
"From 1995 to early 2006 the graph was only up. I never missed a series, I was the captaion of India for six years. And the world was at my feet. And suddenly you did not find yourself in the team. Not many captains in world cricket would go from not being captain to not even finding a position in the side. You look at MS Dhoni he is not the captain of the Indian team but look at the way Virat Kohli looks after him. Look at the way they go about the job," 45-year-old Ganguly told "India Today Conclave East 2017" in Kolkata.
He continued, "It was tough but it made me a better person. I once met Imran Khan in Lahore during that period. He was actually following Indian cricket. We have a fantastic relationship, Imran and myself. We don't keep in touch much. He said something to me which I always remember in life. When you fly high and see dark clouds you find a way to fly higher. I remembered those words during that period."
After being dropped from the team in December 2005, Ganguly made a comeback to the side in November 2006. He retired from international cricket in 2008 after a home Test series against Australia.
When he was out of the Indian team, Ganguly said he trained hard and recalled an incident when he was "so angry" that he ran 21 laps at Kolkata's iconic Eden Gardens.
"I trained hard. I used to come to Eden Gardens. One day I got so angry because I wasn't getting picked and did not know the reason for not getting picked because I was scoring runs everywhere. In those 10 years I scored 10 and half thousand runs. I scored more than Sachin Tendulkar in one-day cricket during that period. But I never got picked in one-day cricket. So I did not know what to do.
"I was so angry that I started running at Eden Gardens. It was about 2006. I kept running at Eden Gardens. I kept running, running and running till I finished 21 laps. The last six or seven were just out of anger," he said.
Ganguly, one of India's finest captains, retired in November 2008. He played 113 Tests and 311 ODIs. Now he is the president of Cricket Association of Bengal (CAB).