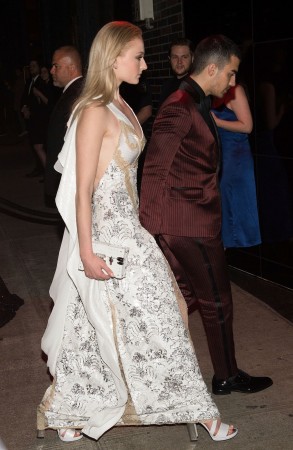 Can these two get any cuter? While in New York City, Sophie Turner gave her fiance Joe Jonas a big kiss goodbye in public just before jet-setting back to Los Angeles! They sure seem like they have eyes only for each other.
The Game of Thrones actress and the DNCE frontman were spotted in New York City bidding each other farewell as Sophie flew back to Los Angeles. But before parting ways, the two of them engaged in some adorable PDA and made out while cameras snapped away.
Sophie and Joe, who announced their pending nuptials last October, have been dating since 2016.
As of now, their wedding date is unknown.
In an interview with Today, the singer talked about wedding plans.
'We're taking our sweet time,' he said. 'We're enjoying the engagement. I'm letting her plan it. I'll just sit back and wait.'
Speaking to People earlier in the year, Joe's dad, Kevin Sr., gushed about how 'blessed' they were to have Sophie as part of their family.
'We love the way that Joe loves her and they way that she loves him,' he said. 'We're a blessed family to have her as our future daughter-in-law, and in our minds, [she's] already a daughter-in-law!'
Kevin Sr. added: 'From the first time we met her, we knew she was a special young lady.' In a since-deleted Instagram story post, life coach Mike Bayer shared a video of a white box that reportedly gave the time and place of their wedding. Well, at least, generally. In gold, the following words were written on the box: "Sophie and Joe 2019 France." Time will tell exactly when and where their nuptials will go down, but it's still exciting to hear that plans are underway!
Now, we know the two are planning on tying the knot, but they are being maddeningly coy about the date and we have to say. Stop playing with our hearts guys.