Sony finally launched the much-awaited 2018 flagship, the Xperia XZ2, at the prestigious mobile trade show Mobile World Congress in Spain on Monday. The Japanese tech giant brought many firsts with its Xperia XZ2 that puts it on a par with rivals from the likes of Apple, Samsung and LG.
In case you're looking for what's new in Sony Xperia XZ2, other than a Snapdragon 845 processor, 4GB RAM, 64GB onboard storage, here are seven things that actually matter.
And if you're looking for more action from the world's biggest trade show of the year, follow our exclusive highlights from MWC 2018.
Full Screen with HDR
This is important.
Sony Xperia XZ2 marks the company's entry into the world of full-screen smartphones, finally ditching those thick block-sized bezels from the top and bottom of the display. The 5.7-inch Full HD+ display is covered by Corning Gorilla Glass 5 and the bezels surrounding the display have been drastically trimmed. For those who are wondering, like most phones, the Xperia XZ2 also gets 18:9 aspect ratio.
But that's not the only best part about the display. Sony Xperia XZ2 features HDR display that tunes up any SDR content for more colorful and vibrant images. So what if there's no 4K? HDR should do the trick.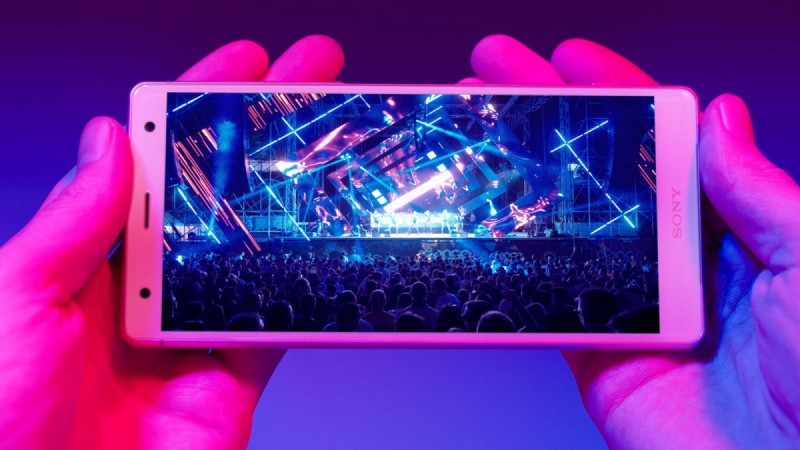 From 'Omnibalance' to 'Ambient flow'
We couldn't be more thankful for the loss of those thick bezels, but they're not gone completely if you consider what Samsung, Apple, and others have done with their flagships. But it's a start nevertheless.
The longstanding "Ombibalance" design is now replaced by the "Ambient flow" design — as the company calls it. At first glance, we almost mistook the Xperia XZ2 for HTC U11, but there are some unique elements in it. The Sony smartphone appears more fluidic and has the fingerprint scanner and camera placed more towards the center.
Best slow-mo camera, literally!
We were awestruck by Sony's 960fps slow-mo video-recording capabilities in the Xperia XZ Premium (REVIEW), and the Xperia XZ2 upped the ante. From recording 960fps footage at 720p to now recording at 1080p, Sony Xperia XZ2 has set a new benchmark for others to follow.
It has perfected an already perfect camera feature, and we cannot wait to test it out in our review when the handset arrives in India.
The 19MP Motion Eye sensor at the back can also record 4K HDR, which is ideal for those who love details.
A classic PlayStation touch
Taking a page from its own PlayStation's playbook, Sony has introduced the new Dynamic Vibration System in its Xperia XZ2. This new technology makes your phone rumble when you're watching a movie or playing a game.
Sony Xperia XZ2 also lets you adjust the vibration intensity for individual apps or even turn it off.
Lost the jack, but not the voice
Several gains for the Xperia XZ2, but it lost a significant piece of history. The useful 3.5mm headphone jack is no longer a part of Xperia smartphones, which the company touts as music-first phones.
The loss is covered with support for AptX HD and LDAC codecs for high-quality Bluetooth audio. But it's a business-friendly move for Sony as it now has a wide range of wireless Bluetooth headphones. Its Xperia XZ2 gives customers some extra push so the shelves are cleared sooner.
Wireless charging
Thanks to the glass design (and industry trend), Sony Xperia XZ2 supports wireless charging.
Of course, there's a USB Type-C port to power up the 3,180mAh battery, but wireless charging has a completely unique appeal.
Sony's reply to Animoji
When Samsung and Apple have Animojis, Sony has something of its own.
The 3D Creator face-scanning app, which came with the Xperia XZ1, has made its way to the Xperia XZ2. It's worth mentioning here because the app only worked with the rear lens but in the Xperia XZ2, 3D Creator works with the selfie camera as well.