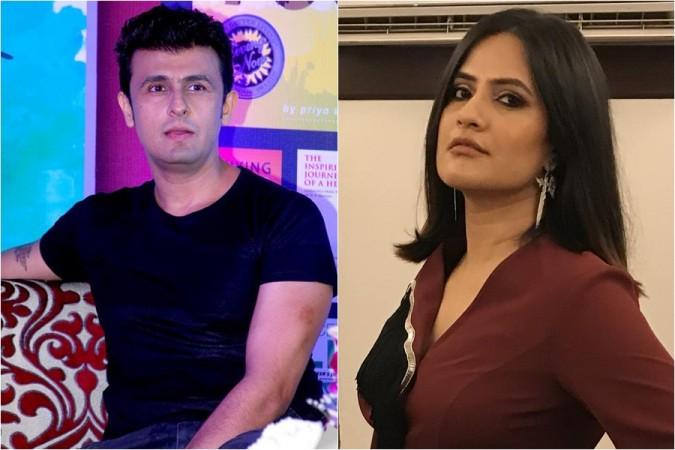 Singers Sonu Nigam and Sona Mohapatra have locked horns with each other over difference of opinions and it looks like the war of words between the two is going to intensify further. Here's everything that has transpired so far.
IT ALL STARTED WHEN Sonu Nigam comment on 'being born in Pakistan' and his unconditional support for sexual harassment accused Anu Malik didn't go down well with singer Sona Mohapatra.
During the Agenda Aaj Tak 2018 summit, Sonu Nigam joked that "Sometimes, I feel like it would be better if I was from Pakistan. At least I would get offers from India."
Addressing the MeToo movement in India and speaking about the treatment given to his friend and colleague Anu Malik, Sonu also said, "If you say, 'Anu Malik met me this morning', that's fine. You accused him without any proof; let's accept that too. Had he (Anu Malik) wanted to say anything, he could have said a lot. But he did not.
"If I say that you misbehaved with me, you will ask me for proof. But there's no proof, right? Despite that, people are respecting the accusers, who are tarnishing Anu Malik's name. But how can you ban him? How can you snatch his bread and butter? How can you torture his family?"
SONU NIGAM's OPINIONS LEFT SONA MOHAPATRA, who had called out Anu Malik for his predatory behaviour, utterly disappointed with him.
In a series of tweets, Sona slammed Sonu for discrediting the multiple victims who had shared their ordeal and accused Anu Malik of misbehaving with them in the past.
She wrote, "So much sympathy for a millionaire losing work? So much empathy for his privileged family being 'tortured'?How about the scores of girls & women he tortured?Multiple testimonies not proof enough?

1)Not 1 but possibly + women & MEN can attest to Anu Malik's deplorable abusive behaviour.
2)I guess Mr. Sonu Nigam expects all these women/underage girls to - a)strap recording devices b)carry spy cams,other proof gathering devices cus they have much to benefit defaming him?

I always found Sonu Nigam to be brighter than most of his peers, intelligent, so talented, excellent at his craft & yes, kind too. Feel so let down hearing him talk like this & choose the dark side to side up with. I'm hoping he realises how sad this is."
ON SONU'S PAKISTAN COMMENT, Sona further said, "Are Arijit Singh, Badshah, Vishal Dadlani from Pakistan though?
"You've had your moment under the sun dear. India anoints a new 'Male Super Star' every 3/4/5 years without fail. Don't blame the Pakistani artistes. Also do not mix up art and music with politics and idealogy."
While "maintaining the decorum", Sonu responded to her tweets by saying,
"The respectable lady vomiting on Twitter, is the wife of someone who I consider very close to me, so although she has forgotten the relationship, I'd like to maintain the decorum."
"Koi jaanvar hee hoga jo MeToo movement ko support nahi karta hoga (Only someone who is an animal won't support #MeToo)."
Women with "frankness and courage, shaming their oppressors", is a refreshing sign of changing times, he pointed out.
"Women have been long oppressed throughout the course of history and it's high time to end this mindset of treating them like properties or trophies, and now they walk hand-in-hand and shoulder-to-shoulder with men," Sonu said in a statement to IANS.
He also asked: "it's okay to accuse someone, but to punish someone? How is that right? Isn't it the job of the law to punish?" (So aarop lagana sahi hai...par saza dena? Ye kaise sahi hua? Saza dena toh kanoon ka kaam haina?)
Sonu also spoke about lynching.
"Agar public ka saza dena theek hai, toh phir garib, maasoom insano ka, ek pagal bheed ke dwara gau maas hone ke shak mai ya chori, rape ya bacche churane ke shak mai, peet-peet kar mar dalna bhi sahi hai?"
"Isn't it a fact that while 99% of the #MeToo movement has been dignified, a small percentage is indulging in media lynching without letting law take its course, especially when all of us in the society have supported the movement?" he asked, talking about the movement which is against sexual harassment and assault.
"Every issue doesn't need quarrelling around it forever. Look at the positive side. Men, henceforth, have learnt to 'behave' with women. Some strong women's sacrifice has done the magic. And that paves the way for a peaceful and safe work environment in the present and for the future. After the shaming and exposing, we should let the law take its course."
He continued: "On one hand, there is an accuser, on the other there is a witness and in the middle there is a person who gives the punishment. And on the other side, the accused. If only you are the accuser, witness and person who gives out the punishment, then you should also get the punishment."
(Ek taraf hota hai aarop lagane wala, aur ek hota hai gawah, aur beech mai hota hai saza dene wala. Aur dusri taraf hota hai aaropi. Agar aap hee aarop lagane wale hai, aap hee gawah hai, aap hee saza dene wale hai, toh phir saza paane wale bhi aap hee hone chahiye.)
"Long live women empowerment."
Addressing to Sona again, Sonu said, "And respected lady, as far as my jibe about better off being born in Pakistan is concerned, go see the interview properly, and make sure I was talking for the entire fraternity, including the singers from abroad, and not myself.
"And would not like to say anything about the names you have mentioned to compare me with, but all I can say is that I chose to stand my ground and be a part of the collective movement to implement the Constitutional Amendment, that your husband too has been a part of, with us. And you have been a witness to it all.
"So, choose your words with some conscience. And as for me, having had my moment, well thank you for the love. I'm very grateful to God for it," he concluded.
Responding to Sonu Nigam's explosive response, Sona Mohapatra continued their debate in a long Facebook post.
Read the full post here.
"Dear Sonu Nigam I read your interview given last night,

1. To define me basis a relationship with another person & not as an individual, going to the extension of memory loss for my name; a gift of patriarchal conditioning.

2. To refer to my opinions & stand in the MeToo movement as 'vomiting'; bad taste.

3. To defend a known serial sexual offender like Anu Malik, thereby discrediting all the women who have called him out; disturbing, horrifying & heartbreaking.

4. To back track on your own statements made on a professional forum after a few hours & refer to some statements as a 'joke' & others as something else; confusing?

5. To hide under bluster, male ego & pettiness; unbefitting.

6. Sonu jee, is all the above an indication of someone maintaining decorum & grace? A showcase of your peace loving & non-quarrelsome nature? (your claims in the interview). Does all this befit your senior & legend status? Worthy legacy to leave behind for your admirers, fans & followers?

7. I refuse to call you someone's papa or someone's husband or someone's son. You are yet for me one of the greatest classic film singers of India & someone I have found to be particularly nice to me every time we've met for close to a decade & half. In personal & professional settings. That you found no other means of experiencing me as a person despite knowing me for over a decade, but as a 'wife', speaks volumes, of your conditioning & world view.

8. I wish you & your family well, always but unlike you, I will not 'defend' or behave with anyone in a particular manner basis a personal 'relationship'. We occupy a public space as artists & it is my duty to stand for what is right. Glad you value your relationship with my partner Ram Sampath with whom you have not only sung songs like Dil Dooba in Khakhee but others over the years. I do not occupy a position of power in your eyes for you to value my worth. Know one thing though, not all relationships are basis, give & take. Some are basis a shared value & belief system. We possibly have none, unfortunate.

9. The ninth & critical point is this - not all cases of misdemeanours, even serious ones like sexual assault or favours asked in exchange for work given, can be proved in the court of law as you have demanded. Doesn't mean they should be swept under the carpet & the perpetrator go about life without a care in this world. When numerous/multiple parties speak up of a shared trauma against the same person & you refuse to either hear them or show any empathy, know that you are complicit to this lopsided power structure & system. Make no mistake. Society & families, fraternity, the industry & all of us have a responsibility too. Not only the government or the judiciary. To keep encouraging such people despite knowing their track record is like the biggest slap to humanity. It is also washing your hands off any responsibility for change. The court cannot solve all our problems. We have to champion change at every level too. Kevin Spacey & numerous others like him have had to take a backseat in work & not because of any court in the West or aren't you in touch with the rest of the woke world?

10. I will post a very objective refutal to your complains about music labels, their love for Pakistani artists in my next post. Hope you have an open mind to read an alternate but logical pov. I believe that debates in society fuel change & I thank you for this opportunity to put a spotlight on crucial issues like these. Artists & art needs to trigger conversations & this is one worth having."
Sona, in a tweet, has said that she will also be responding to Sonu Nigam's complains about music labels.
Keep watching this space for further updates.
(With IANS Inputs)