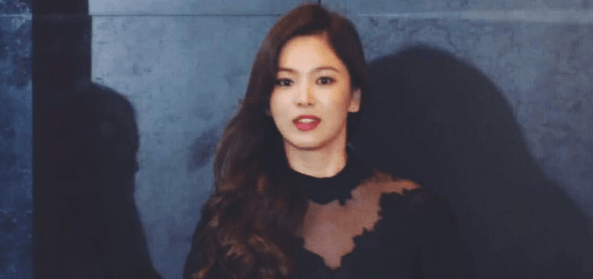 South Korean actor Yoo Ah-In made a special appearance in the popular show Descendants of the Sun for Song Hye-Kyo and now it's time for the actress to return the favor. Song Joong-Ki's wife has now stepped up in support of Ah-In.
Hye-Kyo has been promoting Ah-In's upcoming movie Burning on her social media pages. She first shared the teaser clip of the movie and captioned it, "Finally 'Burning'! Yoo Ah-In 2018.5." Later, she shared the poster of the film starring Ah-In and tagged the actor.
Hye-Kyo and Ah-In are known to be close friends. Apart from hanging out with each other, they also support each other and promote their movies or dramas. During the filming of Descendants of the Sun, Ah-In sent food truck on the sets of the show.
At the Song-Song couple's wedding, Ah-In also read the congratulatory letter which he personally wrote it.
Last year, Hye-Kyo and Ah-In also featured on the cover page of the W Korea magazine. During an interview, when she was asked about a guy-girl's friendship, she said they can be just friends.
"However, these days I'm close to my labelmate Yoo Ah-In and Song Joong-Ki, who I acted in a drama with, but to them, wouldn't I just be an older sister who likes to treat them to food?," she said, referring to her relationship with Joong-Ki and Ah-In.
Ah-In, meanwhile, is busy with the film Burning, which is directed by Lee Chang-Dong. The film also features The Walking Dead star Steven Yeun and rookie actress Jeon Jong-Seo. The film, which tells the story of a complex relationship between two men and a woman, is set to release in May.