South Korean actor Song Joong Ki showed off his new hairstyle in Esquire Korea September 2018 issue. The 32-year-old actor sported long curly hairstyle for the magazine's photo shoot.
For the pictorial, in a black and white image, he is seen displaying his curls and staring right into the camera. In another image, only his face is seen, and curly locks are falling on his forehead.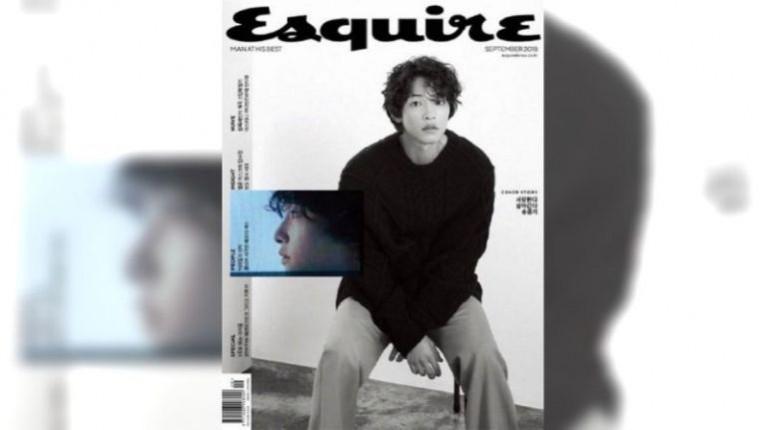 Joong Ki has always maintained a short hairdo. After completion of his mandatory military service, his next projects - Descendants of the Sun and Battleship Island - required short hairstyles.
In 2016, during his appearance at the Seoul International Drama Awards, Joong Ki's hairstyle became a hot topic of discussion. He explained during the red carpet interview: "I've cut my hair short because I'm working on a film. I wasn't able to go out of the house much. It feels good to be out here."
In related news, Joong Ki will be holding a fan meeting in celebration of his 10th debut anniversary. The fan meeting titled, The Days We Spent Together, will be held at Kyung Hee University Grand Peace Palace on 1 September. This is the actor's first fan meeting in two years.
Meanwhile, Song Joong Ki is also preparing for his new drama Asadal Chronicles which is set to air in 2019. He will play the main character of Eun Seom. Adding on, the show is expected to be a hit as Kim Ji Won, Jang Dong Gun, and Kim Ok Bin are also roped in the leading roles.
As for Joong Ki's wife, Song Hye Kyo, she is also set to come back with a new show along with Park Bo Gum. In the drama titled Boyfriend, the 35-year-old actress will play Cha Soo Hyun, the daughter of a politician and former daughter-in-law of a family running a large business conglomerate. As for Bo Gum's character, Kim Jin Hyuk, he will appear as a man who enjoys the happiness of his everyday life.