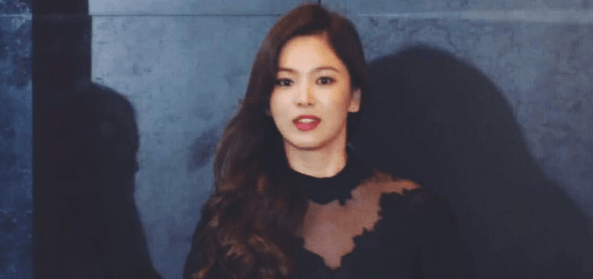 Finally! After Descendants of the Sun, fans will see Song Hye-Kyo back on television, if all goes well. The actress has been reportedly approached for the female lead role in the upcoming drama Boyfriend (tentative title).
Interestingly, actor Park Bo-Gum, who was once rumoured to be romantically involved with Hye-Kyo's husband Song Joong-Ki, has been in talks for the male lead role. While several reports state that Hye-Kyo and Bo-Gum are still in talks, Koreaboo quoting a drama staff reported that they are the main leads.
"The drama 'Boyfriend', starring Song Hey Kyo and Park Bo Gum as the main leads, is confirmed to broadcast in December," a drama staff told the South Korean publication.
Bo-Gum was approached for the role in May and his agency Blossom Entertainment had confirmed the reports of him getting the offer. However, the agency had also said that nothing is confirmed now.
"It's true that he has received an offer to appear in the drama 'Boyfriend.' However, it's just one of the dramas that he has received an offer for, and he is currently considering it. Nothing is confirmed as of now," Blossom Entertainment had said.
But looks like fans will finally get to see Hye-Kyo returning to television and opposite Joong-Ki's good friend Bo-Gum. The drama was reported to air in December on tvN, but a source from the network denied the rumours.
"We are in talks regarding whether or not 'Boyfriend' will be added to tvN's programming. It has not been confirmed yet," tvN source said.
Hye-Kyo's character is reportedly named Cha Soo-Hyun, who is a divorcee and comes from a rich family. Soo-Hyun's mother married her to a rich man and soon they have a kid, but the man leaves her and his child.
Bo-Gum will portray the character of Kim Jin-Hyuk, an average man who is struggling to get a job. After being rejected by multiple companies Jin-Hyuk goes on a trip where he meets Soo-Hyun.