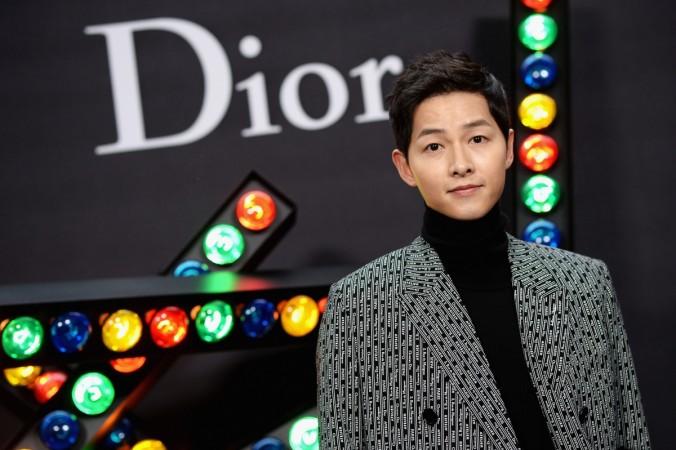 Here's a good news for Song Joong-Ki's fans that are waiting to see the actor in movies or TV dramas after Descendants of the Sun. After TV series Asadal, now there is a speculation that the actor might reunite with the director of his 2012 film A Werewolf Boy.
Joong-Ki might collaborate with the director Jo Sung-Hee for a science-fiction movie. According to reports, the actor met the director recently and even agreed to do the film. However, the actor's agency Blossom Entertainment said that nothing has been confirmed yet.
The movie, which is tentatively titled Lightning Ship, was supposed to go on floors after A Werewolf Boy, but the director ended up working on Phantom Detective. Now, Sung-Hee wants to make Lightning Ship with Joong-Ki and other actors from different countries. The movie is said to be based on outer space settings.
If the reports are believed to be true then this will be Joong-Ki and Sung-Hee's first film after the 2012's hit film A Werewolf Boy. Joong-Ki shot to fame for portraying the role of Chul-Soo in the fantasy romance film. He then went on to act in the series Descendants of the Sun, which also featured his wife Song Hye-Kyo in the lead role.
Meanwhile, he has also been approached for the historical drama Asadal along with Kim Ji-Won. His agency confirmed that Joong-Ki has been approached, but he is yet to give a nod for the project.
"It's true that Song Joong-Ki has been given an offer for the historical drama 'Asadal' but nothing is yet confirmed regarding his next project," his agency stated.
The drama, which is tentatively titled Asadal, is about power, love and growth. The show will be directed by Kim Jin-Won of the Innocent Man. The show will go on floor this year and will air in 2019.