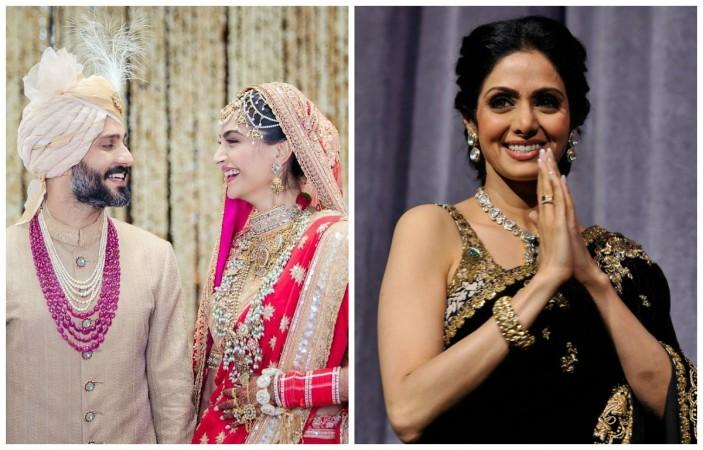 The entire Kapoor family is celebrating Sonam Kapoor and Anand Ahuja's marriage on Tuesday, but there is a section of people on social media, who are trolling the actress even on her wedding.
While Sonam's fans and well-wishers have been wishing her on her big day, the Veere Di Wedding actress' haters have been slamming her for getting married just after two months of Sridevi's death.
Sonam's aunt Sridevi died in the month of February, and many on social media have been calling her "emotionless" for having a lavish wedding a couple of months after the tragic incident. The trolls are attacking her, questioning why she could not wait for at least a year.
There are a series of tweets criticizing the newly-wed, calling her and the Bollywood brigade devoid of family sentiments. Some even took it too far, questioning if Sonam is pregnant, which caused her to rush for the wedding. However, some others are in turn slamming the trolls for making such negative comments on the most special day of her life.
Nonetheless, Sridevi's recent demise is not the only factor, on basis of which, Sonam has been targeted. She got ridiculed for her stand during Kathua rape case protest, wherein, she held a placard that stated "I am Hindustan, I am ashamed", following which many accused her to be anti-Hindu.
The haters mocked her and Bollywood people saying that they wear Hindu outfits during marriages, but other times, they "hate Hinduism". However, most of the hate comments are in regard to her getting married two months after Sridevi's departure.
Check some of the tweets here:
It is so sad n shameful. It has been only 2 months since Sri Devi passed away n Sonam kapoor is going to marry. They could have wait for at least 1 year.Ek ghar me matam chaya hai aur rishtedaar shaadi rcha rhe hai.

— Ashish Rattanpal ?? (@AshishRattanpal) May 3, 2018
And i was surprised to that sonam's wedding happened so soon after Sridevi's death.. She was very much the part of the same family. Can't understand these celebs and all. Guess they are emotionless..

— Priyanka (@Priyankah898) May 8, 2018
So hardly 2 months back Sri Devi died naachte naachte n now their family is again nachaongi for Sonam Kapoor's wedding! Bc insaan bhi ho????

— ??‍♀️✨ (@InaayaMirza) May 8, 2018
So Sridevi died few months back and now Sonam Kapoor Marriage and Kapoor family in full swing kya baat hai bollywood walo kii ... #SonamKapoorWedding

— Pareshh (@MBBSMammu) May 7, 2018
Is Sonam Kapoor pregnant??
Then what led her to rush into marriage. She couldn't wait for few months. That woman was a part of your family, damn it!!!
We fans are mourning Sridevi's death than her own family members.#Sridevi#SrideviLivesForever?#SonamKiShaadi ?

— Leslie Pinto (@LesliePintoo) May 7, 2018
Just a month back Sridevi died in family, n they r celebrating sonam wedding with such grandeur, where has family value n Sentiments gone???

— Pratik Jain (@PratikJ55324968) May 7, 2018
Can't believe there are people who are ACTUALLY upset that Sonam is getting married "just after" Sridevi's death.
Can the internet for once not be rude and let the family be happy!

— Ispita? (@saladsehgal) May 7, 2018
She bashing expensive lavish wedding gosh this fake sonam her big mouth even when sridevi dead happen hardly 2month ago shameless

— aishwarya fan?????? (@GODDESash) May 7, 2018
Pathetic on people who are angry over Sonam's marriage because of Sri Devi's death. It's their family matter on when their daughter should marry and when not.

— Violent Delights (@Ajeeb_Daastaan) May 8, 2018
Why the bolly hypocrites wear indian attire when someone dies, births or marriage occasions? Rest of the time they hate hinduism and " pundits"? Specially Sonam Kapoor...

??

— Sandip (@SandipRnc) May 7, 2018
Sonam's wedding is held at her aunt's residence at Bandra in the presence of close friends and family members. Many celebrities from Bollywood, including Sridevi's husband Boney Kapoor and their two daughters also attended the big event. Some of the other stars who marked their presence at the wedding are Bachchan family, Saif Ali Khan along with Kareena Kapoor Khan, Ranveer Singh, Rani Mukerji, Swara Bhaskar, Katrina Kaif among others.
Following the marriage ceremony, the newly-wed couple are set to host a big fat reception party at Leela on Tuesday evening.