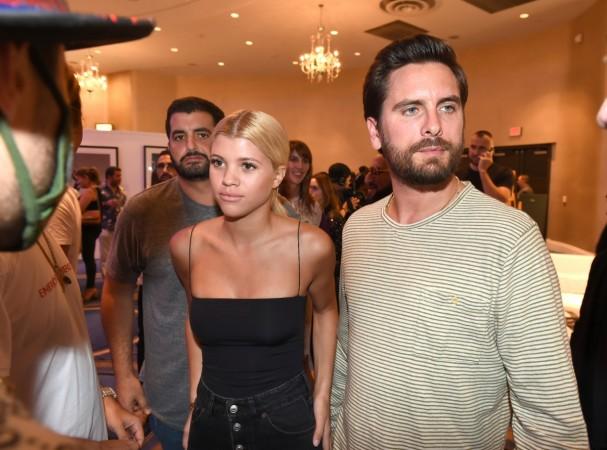 Sofia Richie is reportedly upset over claims that Scott Disick wants more children with Kourtney Kardashian. The former couple who ended their nine-year relationship in July 2015, have three children together -Mason, Reign, Penelope.
In a preview for the upcoming episode of Keeping Up With the Kardashians, Kim Kardashian West tells family friend Larsa Pippen about Scott's desire to have more children with Kourtney. She said: "So Scott just texts me that he wants to have another baby with Kourtney. I think he just wants one more, and she wants one more."
"She definitely wants more kids," Pippen shared. "If they both want to have more kids, why not have them together? Their kids are gorgeous."
"I mean, it's like, Scott has a girlfriend, Kourtney has a boyfriend — we get it," Kim added. "They don't even have to have sex. It could be IVF."
According to a report in Hollywood Life, Lionel Richie's daughter is not happy about it. A source said: "Sofia gets furious whenever Scott brings up having more kids with Kourtney. And oddly, it comes up all the time."
"Sofia thinks it is weird and totally inappropriate to even entertain the idea of having more children with your ex just to maintain continuity in the family. When Scott jokes about the idea, it makes Sofia angry and insecure, she really does not like the idea at all," the insider added.
"With Scott always joking about having more kids with Kourtney, that is a big turn off for Sofia. While she would love to be a mom one day, and maybe have kids with Scott, it is not going to happen anytime soon and not as long as he thinks he might have more babies with his ex which Sofia thinks is a terrible idea," the source added.
This report comes shortly after the 22-year-old model gave more details about her relationship with Disick. During an interview with Australian newspaper Sydney Morning Herald's The Goss, she gushed about her love life with the father-of-three. She said: "We are very happy, very lovey dovey,"
"We are best friends and that is mainly the strongest connection we have," she added. "We have always had that best friend connection and from there it has really worked out. I am so happy."
However, she admits that she gets upset over the split rumours circulating around them. She shared: "Everything is so false. I don't read it because I just get really angry."