Yesterday's episode saw all ex-contestants return to the Bigg Boss House. Nandini, Deepti Sunaina, Roll Rida, Babu Gogineni, Amit Tiwari, Sanjana, Kireeti Damaraju, Ganesh, Bhanusree, Tejaswi Madivada, and Pooja Ramachandran came together for a reunion.
Though all the contestants looked overjoyed meeting all the contestants again, Tejaswi Madivada, Kireeti Damaraju, and Babu Gogineni were seen spreading negativity about Kaushal and his followers.
Tejaswi Madivada who entered the house as a part of the reunion did not even try to exchange the pleasantries with Kaushal. She was seen talking only bad things about him.
"His following is immense. But, those people who follow him are just a bunch of negative people who are trying to suppress the other people instead of helping their favorite contestant", Tejaswi Madivada told to Tanish referring to Kaushal Army.
Babu Gogineni and Tejaswi were seen trying to make it a point that Kaushal is one of the most irritating players in the house. Babu Gogineni also mentioned that "someone is called a flip-star" indirectly referring to Kaushal.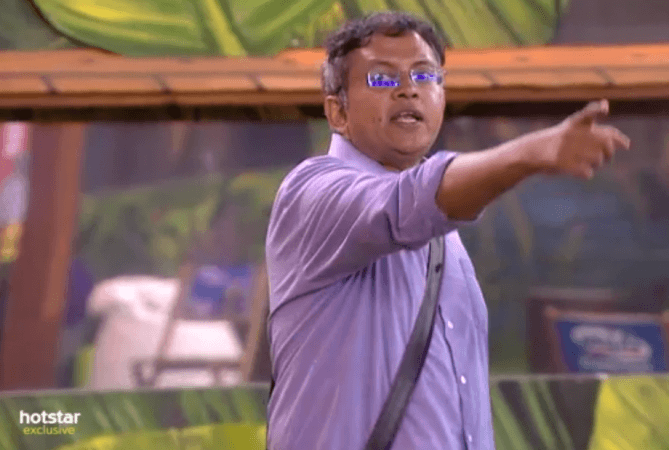 Tejaswi Madivada was seen making comments on Kaushal and indirectly targeting him with her words. Kaushal stayed silent mostly, he kept just watching everyone.
On the other hand, ex-contestants Shyamala, Roll Rida, Amit Tiwari were extremely affectionate with Kaushal, unlike their early behaviour during their stay at the Bigg Boss Telugu 2 house.
Babu Gogineni, Tejaswi Madivada, and Kireeti Damaraju were against Kaushal while they were in the house. They seem to have taken the Bigg Boss game show way too seriously, that they had carried their grudge on Kaushal even after they got eliminated from the show.
Babu Gogineni and Tejaswi Madivada are vocal about them being against Kaushal and his fan brigade. However, Kaushal has emerged to be the only contestant who has earned a majority of followers among the Telugu audience.