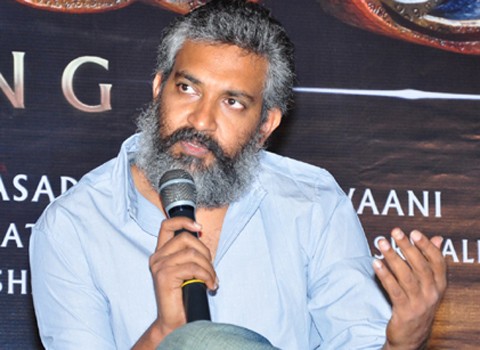 Speaking about the overwhelming response that the trailer of "Baahubali" has received, ace director SS Rajamouli said that his team is extremely happy to see the video trending worldwide.
The makers of "Baahubali" held a special screening of its trailer in around 300 cinema halls across Telangana and Andhra Pradesh on Monday evening. A video shot during the special screening was later circulated on WhatsApp. The trailer was then rolled out in four languages on the internet the same evening and it went viral on social media and started trending worldwide within minutes.
In an exclusive interview with Bollywood Hungama, Rajamouli expressed his excitement over the response. "We planned a big event in Hyderabad on Sunday, but it did not happen because of the permission from the police. So we decided to keep a low profile for its trailer release. But the kind of response we got is absolutely amazing. We are so happy to see it trending worldwide," he said.
Rajamouli has directed nine films and all of them have become blockbusters at the box office. His success graph has surprised many Indian filmmakers. When quizzed on what drives him in a film, he is quick to say that it is the characters of the story that push him.
"Most of my movies are written by my father and all the characters are created by him. When he narrates me the story, I have a vision of them. I feel that I have a responsibility to present them properly. This responsibility towards my characters that's what drives me," Rajamouli said.
The Tollywood filmmaker says that emotional energy is the biggest strength of Indian cinema. "We are not on par with Hollywood in terms of budget and technique. But in terms of emotion, we are far greater than world epics. That is principally from Mahabharat and Ramayana. The emotions are very strong and they hit you so hard. That's what inspires me. In all my films, I try to keep the emotions very strong," he explained.
Though rumours of Rajamouli's debut in Bollywood have also been doing the rounds for quite some time now, he had kept mum on the issue. However, he has finally opened up on it and noted: "As a story teller, we want our story to be heard by maximum number of audience. Hindi film has more number of audiences and I want my story to be heard by. It would be lying if I say I don't want to do Hindi film."