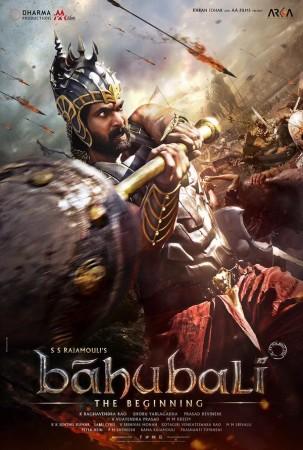 The trailer of SS Rajamouli's "Baahubali", which released on YouTube on 1 June, has been successful in impressing not only the Telugu film-goers, but also Hindi, Tamil and Malayalam audiences.
"Baahubali", featuring Prabhas, Rana Daggubati, Anushka Shetty and Tamannaah Bhatia in the leads, is shot and released simultaneously in Telugu, Tamil, Malayalam and Hindi. The two-part movie, which has been made with a whopping budget of over ₹175 crore, have released the trailers of all the four versions, which have been viewed by over 2.5 million people across the globe in 24 hours.
The trailer of its Telugu version, which was released on YouTube by the "Baahubali" team, has got 1.3 million views, which is the biggest record in the history of Telugu cinema. The response of its video shows that the film will become the biggest opener and highest grosser for Rajamouli, beating the records of his previous period movie, "Magadheera".
The trailers of its Hindi, Tamil and Malayalam versions have got over 8.5 lakh, 2.5 lakh and 66,000 views respectively in 24 hours after its release. All the four versions of the trailer have got over 30,000 thumbs ups and over 1,600 thumbs downs together. These videos have got more than 2,700 comments and most of them show viewers' positive opinions and their excitement to watch the film.
Here are some comments written by the audience after watching different versions of "Baahubali" trailer:
Telugu Trailer
Sai Teja: The trailer is outstanding I have been watching this from 5pm till the second I made a comment. Such a wonderful graphics by an Indian movie..#bahubali...going 2 rock ur nearest theatres across the globe on jul10........couldn't wait.......
Vaibhav Shetty: Baahubali has set high standards in filmmaking. The director will definitely receive countless accolades for this path breaking innovation. Thankyou Baahubali Team for making India shine on the world map.
Hindi Trailer
Sharath Vardhan: The grandeur which hollywood movies provide by spending thousands of crores is being given by an indian by spending 10% of what they spend. proud to be indian. its time world cinema starts respecting indian cinema and they get inspired by us
Utkarsh Tiwari: This is an outstanding piece of hardword and creativity... Salute to the creative crew and everyone who is a part of this movie...!! Eagerly waiting...BAHUBALI
Rajiv Rajpal: Woww... great trailer. i would like to request rajamouli sir to release this movie in philippines also... our lots of love to prabhas and rana from philippines... :D :D
Tamil Trailer
Manivelarung: Awesome... Will watch it in theater. Please stop comparing this with Hollywood VFX. For Indian budget, this is too good. Applause for SS Rajamouli
Mjordan233: OMG. freaking incredible. the VFX!! :'D this gave me goosebumps. the baahubali world looks so much like pandora from Avatar. Indian film industry is definitely getting somewhere no doubt :'D
Ajay Rinaldo: Kudos to the Producers for making this movie in Tamil just like Naan ee without opting for dubbing....Awesome Trailer, hope it will be a blockbuster hit in TN... :)
Venkat S: OMG its SS.Rajamoli's yet another jem of his crown. This time he will stretch his wing in Tamil industry also.
Malayalam Trailer
Ninja Assasin: This is Future...! VFx Looks amazing...! Visual treat.../ Rajamouli Sir waiting for this visual wonder...
Venkataraman Rajagopal: Simply superb! Plot / Stalwarts behind the screen..visuals very well encapsulated in excellent background score,, is sure to go for a box office hit! God Bless!
Hariprasad Chinta: Bahubali goes to biggest history records in this year.....Trailer has simply superb fantastic. I love this Trailer when the trailer was released I had seen again and again till now also.....