Passengers on board a Chhatrapati Shivaji Maharaj Terminus-bound train on Thursday had to deal with a rather rude commuter – a snake. The reptile, which was spotted coiled up near a fan, led to several passengers jumping off the train even before it halted near the Thane station.
The incident took place at around 9:30 am on Thursday (August 2) when the Titwala-CSMT slow train, which was heading towards Mumbai. The green vine snake was first spotted coiled around a handlebar, following which a passenger raised an alarm.
The snake, which was slithering on the luggage rack, soon coiled itself around a ceiling fan. In the meantime, a few passengers, who were scared jumped overboard even before the train pulled into the Thane station, reported The Times of India.
Others hurriedly pulled the alarm chain to halt the train. "The train was CSMT bound. It stopped a little ahead from where it was supposed to, as someone had pulled the chain," Indian Express quoted Titwala resident Sanjay Gurav, who works in an IT firm in Vikhroli, as saying
When the train finally stopped at Thane, a few railway officials found the green snake. They tried to pull it down with a stick and it fell down on the floor, following which it was pushed out of the door and on to the tracks.
"The snake caused a lot of chaos. Some of the commuters had the presence of mind to switch off the fan that was close to the snake. Some passengers tried to ensure that no one tried to jump out of the train. But it was scary," another passenger Santosh Shinde added.
Meanwhile, the railway authorities are of the opinion that the snake did not get into the train on its own. They suspect that it is a handiwork of a mischievous person.
"The train had completed two trips to and from Titwala at that point. Why would the snake not show up before? We are investigating and have asked the RPF to check the CCTV footage. We are checking with animal activists and snake experts to understand how the snake reached there," Central Railway spokesperson Sunil Udasi said, reported IE.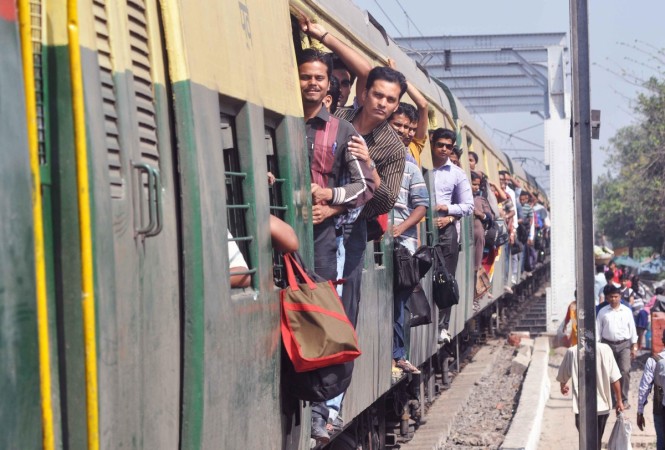 However, specialists who work with reptiles believe that the vine snake might have crawled into the train through a window.
"Snakes are generally more visible in the rains. The snake might have made its way over to the roof of the train through a high tree branch and then came in through a window. While the snake cannot be identified, it seems to be a native medium venomous one," a Sarpamitra from Kalyan, in Mumbai said.
Here's a video of the snake in the train:
#Viral | Snake on Mumbai local train!

A non-poisonous snake was found on the fan of the 8:33 am Titwala-CSMT slow train on Thursday morning.

The snake caused commuters to panic and pull the chain, following which the reptile was deboarded #Mumbai pic.twitter.com/RKYNHJ5Exe

— LocalPressCo Mumbai (@LocalPressCo) August 2, 2018