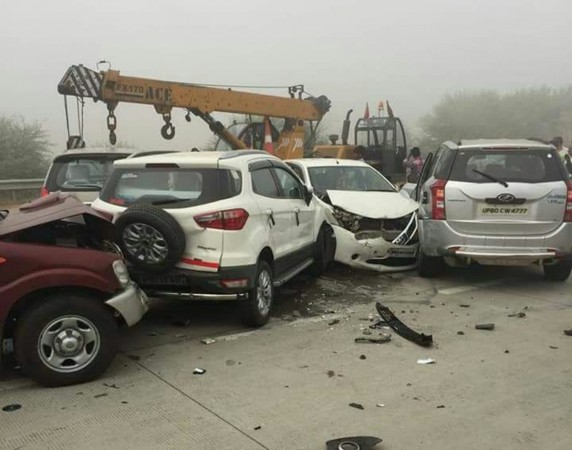 Smog in Delhi-NCR led to multiple vehicle pile-ups on the Yamuna Expressway which reportedly led to the death of six people on Wednesday, November 8.
According to the Hindustan Times, 13 vehicles were involved in the pile-ups in Greater Noida's Dankaur area -- five vehicles were on their way to Agra and eight vehicles were going towards Delhi.
"Six people received minor injuries and were shifted to Kailash Hospital where they were discharged within an hour's time after being given first aid. None of the persons had received any critical injury," a police officer said.
A video also went viral on social media on Wednesday which claimed to show the horror which was experienced by the people in the accident. The ones who rammed their vehicles one after another rushed out of the spot and were seen in the video waving at the vehicles heading towards the spot.
Three more accidents due to smog were reported on National Highway 92 in Aligarh which left two people dead and six others critically injured.
Delhi and surrounding states of Punjab, Haryana and Rajasthan have been witnessing the wrath of fog and smoke for the past three years. According to the Central Pollution Control Board, the Air Quality Index (AQI) on November 7 reached an alarming 448 or "severe" as against a level of 445 on the day after Diwali in 2016, when the city saw its worst pollution in a decade.
On Wednesday, the Delhi government also ordered schools to remain shut considering the public health emergency declared by Indian Medical Association (IMA).
Another major incident had taken place last year on the same highway where nearly a dozen vehicles crashed into each other, leaving at least three dead and several injured.
This year, Delhi has witnessed the worst level of air causing breathing problems. The National Green Tribunal (NGT) has yet again slammed the Delhi government and the neighbouring states for not being prepared to face the dangers from smog.
On Tuesday, a NGT bench headed by chairperson Justice Swatanter Kumar had said: "The ambient air quality is so bad that children are not able to breathe properly. Why didn't you not spray water using helicopters as per our direction? You take instructions and inform us day after tomorrow."
Watch the viral video here