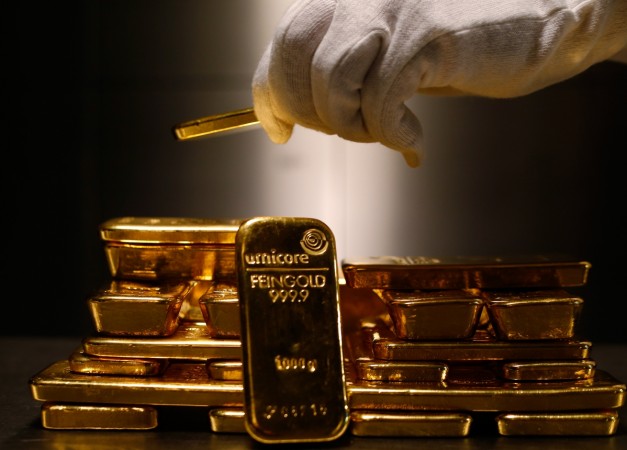 Gold steadied on Monday but failed to make any recovery from three straight days of losses as stronger global economic data and higher equities curbed the metal's safe-haven appeal.
Asian equities rose, taking heart from upbeat earnings and U.S. economic data that eased global growth fears and sharpened risk appetite. The results of stress tests on European banks at the weekend were received calmly in the market.
Gold's outlook this week will depend on a Federal Reserve policy meeting, when the U.S. central bank is widely expected to end its bond-buying stimulus, OCBC Bank analyst Barnabas Gan said.
The Fed's two-day meeting, which begins on Tuesday, will also be watched for clues on whether any slowdown in Europe or elsewhere could affect the central bank's monetary policy.
"In addition, the ECB stress test which gave most of its 130 banks a clean bill of health may continue to dampen safe-haven demand in gold. All these, and accounting for the relatively stronger greenback for the past month, should continue to inject downside risk for bullion," Gan said.
Spot gold was steady at $1,230.86 an ounce at 0309 GMT but isn't far from a one-week low of $1,226.17 reached last week.
The metal's losses come after global equities posted their biggest weekly percentage gain since July 2013 last week, while the U.S. dollar also strengthened.
Data on Friday showed that new U.S. home sales rose to a six-year high and Britain's economy expanded 0.7 percent in the third quarter, easing fears over a global slowdown. Strong corporate earnings also helped push equities higher.
Bullion traders were also closely watching investors' positions in gold funds. SPDR Gold Trust, the world's largest gold-backed exchange-traded fund, said its holdings fell 0.6 percent to 745.39 tonnes on Friday.
Hedge funds and money managers increased their bullish futures and option bets in gold for a second straight week, as the price of the precious metal rallied in the week up to Oct. 21, the Commodity Futures Trading Commission said on Friday.