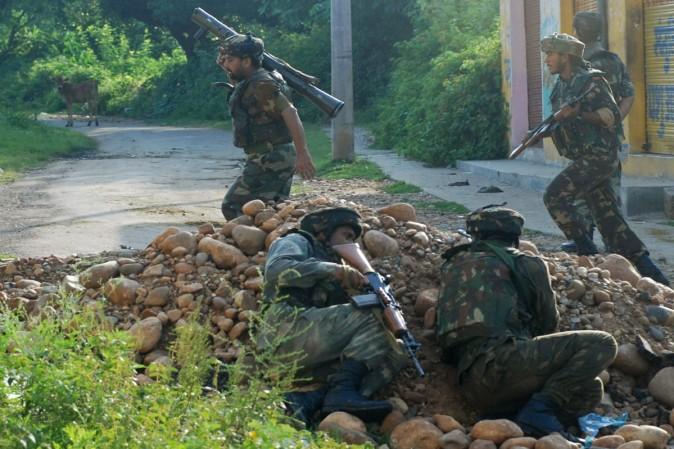 In a shocking video that has been doing the rounds on the internet, the mother of Hizbul Mujahideen commander Saddam Padder, who was killed in an encounter in Shopian, Jammu and Kashmir, was seen giving a gun salute to her son during his funeral.
Padder was among the five terrorists who were killed in an encounter with the security forces Sunday, May 6, and was buried May 7.
The video, which went viral on social media, shows a woman standing atop a building with several other people. She is said to be Padder's mother and is seen hugging a militant, identified as Syed Naveed Mushtaq.
She is then seen pulling the trigger of a gun held by Mushtaq.
Hizbul terrorist Saddam Padder's mother fires in the air using rifle of Naveed Mushtaq (constable turned terrorist) earlier today. pic.twitter.com/eK0cec93cW

— Rahul Pandita (@rahulpandita) May 7, 2018
While the video has been going viral on Twitter, International Business Times India could not independently verify the authenticity of the footage.
A police official has now told the Press Trust of India that the video is being investigated.
Along with Padder, four other Hizbul terrorists were gunned down Sunday, and they were identified as Bilal Ahmad Mohand, Adil Ahmed Malik, Tauseed Ahmad Sheikh and Mohammed Rafi Bhat.
Bhat made quite some news as the PhD scholar and an assistant professor in the Kashmir University had joined the militant outfit only on Friday, May 4. He was involved in the encounter Sunday and before being gunned down by security forces, he is said to have called his father Fayaz Ahmed Bhat and apologized.
"I am sorry if I have hurt you and this is my last call as I am going to meet Allah," the Times of India quoted Rafi as telling his father. The police were reportedly monitoring all the calls and when they found out that Rafi had called his father, they got in touch with the militant's family and asked them to convince him to surrender.
While the family agreed and left home to reach the encounter site, they couldn't make it as Rafi had already been killed by then.
Meanwhile, in another incident, four Lashkar-e-Taiba terrorists fired gunshots from their rifles to pay their "respects" to another slain Hizbul terrorist Fayaz Ahmed Ashwar during his funeral Sunday.
Eyewitnesses told the Times of India that four militants took part in Ashwar's funeral and fired gunshots. "They fired a volley of bullets in the air and raised pro-azadi slogans," eyewitnesses added.