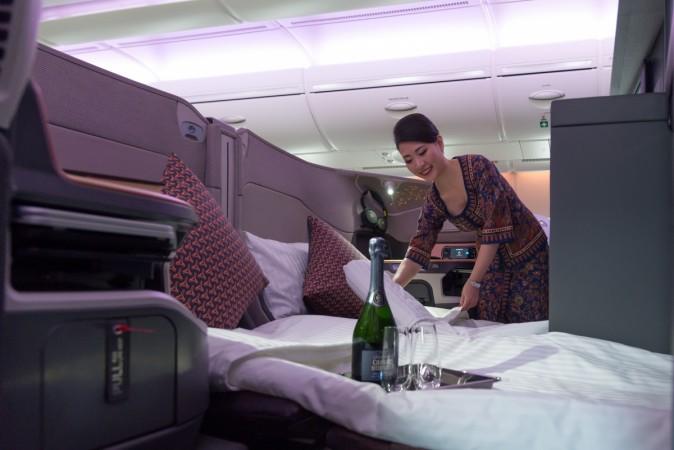 Singapore's flag carrier, Singapore Airlines, was awarded the Airline of the Year at the 2018 Skytrax World Airline Awards. The Asian carrier secured the top spot after a gap of 10 years at the Skytrax award which is considered as the Oscars of the Aviation industry. The top rank was among the four awards won by Singapore Airline. It was also awarded the best first class, the best airline in Asia and best first class seat. The Airline dethroned Qatar airways which have secured the numero uno position last year.
Singapore's triumph highlighted resurgence in Asian carriers, which have contested against their Middle Eastern counterparts for supremacy ever since UK-based aviation industry reviewer Skytrax introduced its awards in back in 2001. Apart from a win by Hong Kong-based Cathay Pacific in 2014, this award segment has been dominated by airlines based around the Arabian Gulf in the past seven years.
The airline is known for its premium offerings with new innovations like its hotel room-style suites with double beds and it's consistently best-in-class seating. The scheduled re-launch of the world's longest flight between Newark, New Jersey and Singapore in October 2018 also added few points to the Airlines rankings.
The other airlines which managed to secure a place in the top 10 were a familiar line up of valued airlines dominated by Middle Eastern and Asian names. ANA All Nippon Airways secured the third spot while fourth went to Emirates. Taiwan's EVA Air and Cathay Pacific finished fifth and sixth respectively.
The only European carrier to make into the top 10 was Lufthansa. The only European carrier managed to make its entry into the top 10 was Lufthansa, which grabbed 7th place, followed by China's Hainan Airlines in eighth, Garuda Indonesia in ninth and Thai Airways in 10th. Garuda made huge turnaround ever since it was banned from flying into the European airspace managed to win the prize for best cabin staff. Indian Airline carries failed to make any substantial mark in this awards as Indigo finished on the 55th place while Jet Airways got the 80th position.
Here's the top 10 list for 2018
1. Singapore Airlines
2. Qatar Airways
3. ANA All Nippon Airways
4. Emirates
5. EVA Air
6. Cathay Pacific
7. Lufthansa
8. Hainan Airlines
9. Garuda Indonesia
10. Thai Airways