Apple Inc on Tuesday, January 23 officially rolled-out its latest iOS 11.2.5 update to the public, ahead of releasing HomePod smart speaker. Before becoming available for public, iOS 11.2.5 went through seven beta tests.
This new update will add support for HomePod. The update introduced several features related to HomePod such as Siri Podcast-based audio news as well as the new interface. The iOS 11.2.5 will come along with bug fixes and security improvements.
Podcast-based audio news feature first began rolling out to all devices last week and now it introduces the official support for all the Apple iPhones and iPads.
So now, if you ask Siri about the news update of the day via "Hey Siri," the new feature will allow the personal assistant to provide Podcast news from sources like The Washington Post NPR, Fox News or CNN. The news sources depend on the country you are in.
It is to be noted that this feature does not work when you ask for the news by pressing the home button. If you do so then Siri will show you the regular news headlines in the text.
Siri will provide generic news update with the default sources, but users can also ask for more specific news topics like sports, business, entertainment, Technology.
Sports based-news will be podcast from ESPN or NBC, business news will be offered from Bloomberg or CNBC and music related news is from Apple Music Beats 1 content.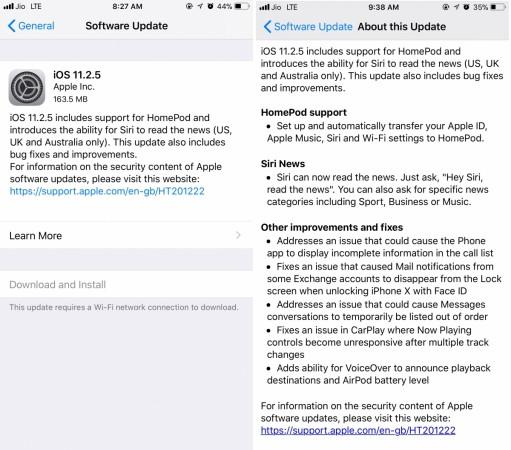 Siri news podcast is only available for the United States, Australia and UK — the three countries where the HomePod is due for launch in February. According to Apple's release notes for the iOS 11.2.5 update, users from other countries can access the Siri news on their devices, but the content will be provided only in English.
The iOS 11.2.5 brings a new layout change for the audio controls. The audio playback sources are now listed as separate tiles. When tapped on one of the audio sources like Apple TV, it will allow users to play audio on that particular device controlled by iPhone. The user can listen to a different music on the iPhone without interrupting the audio being played on Apple TV.
The new update introduces new functionality like VoiceOver accessibility feature which announces playback destinations and AirPod battery level. iOS 11.2.5 also brings smaller improvements and bug fixes and addresses issues regarding in Mail, Messages, and CarPlay.
Apple's official release notes state:
- Addresses an issue that could cause the Phone app to display incomplete information in the call list
- Fixes an issue that caused Mail notifications from some Exchange accounts to disappear from the Lock screen when unlocking iPhone X with Face ID
- Addresses an issue that could cause Messages conversations to temporarily be listed out of order
- Fixes an issue in CarPlay where Now Playing controls become unresponsive after multiple track changes
The iOS 11.2.5 update is available free of cost for all eligible devices. Users can update their devices in three simple steps: Go to Settings --> General --> Software update.
On a related note, iOS 11.3 is currently being tested by developers.