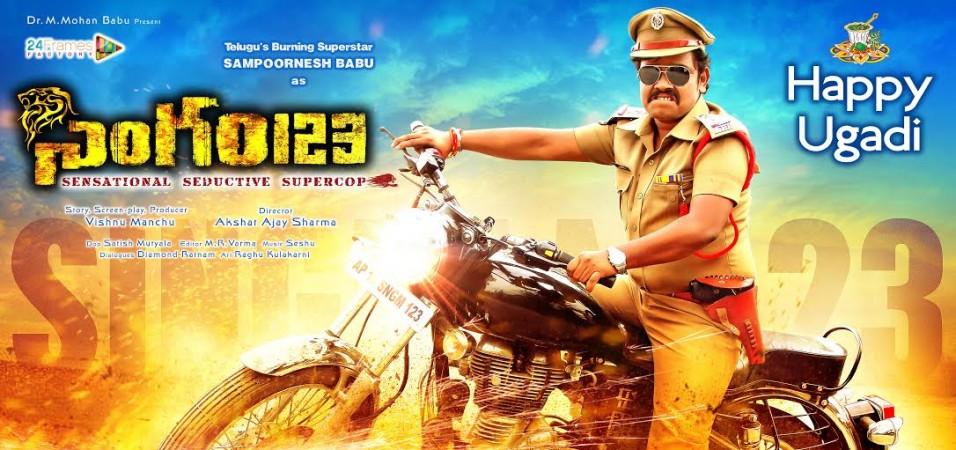 Vishnu Manchu's production house 24 Frames Factory has released the teaser of Sampoornesh Babu's upcoming movie "Singham 123", which is now going viral in the social media.
"Singham 123" is a spoof action comedy directed by Akshat Ajay Sharma. Besides producing it, Vishnu Manchu has also penned the story and screenplay of the film. Presented by Dr Mohan Babu, the movie is scheduled to release in theatres across the globe this summer.
Set in the backdrop of a village, "Singham 123" is about a mafia don. Lingham is ruled by a self proclaimed king and mafia-lord in Singarayakonda. He fancies himself as the destructive force and an archenemy of law and order. After several failed attempts by the Indian police throughout the decade, Singham 123 is assigned the mission impossible -- to arrest Lingham.
Sampoornesh Babu, who hogged the limelight with his debut film "Hrudaya Kaleyam", is making his comeback with "Singham 123". The comic actor will be seen playing the role of a sensational, seductive and supercop in the movie. "His role is of an ultimate foolhardy cop ever seen on Indian screen or even world cinema for that matter," say the makers of the film.
The teaser of "Singham123", which was released on YouTube on 7 April, features Sampoornesh Babu roaring in a khaki gear. The 41-second video has garnered tremendous attention from the viewers, who are impressed with his mannerism and dialogue delivery. After watching the teaser, some say that the actor is sure to tickle the funny bones of the viewers.
Here are a few comments on the teaser of Sampoornesh Babu's "Singham123".
Sandeep Aatreya ‏@SandeepAatreya
#Singham123 teaser is laugh riot as expected. Sampoo tickles funny bone with his trademark dialogues. ROFL. All the best to @iVishnuManchu
Mar Jet ‏@sreeramtej
Race lo nannu andukovadaniki nenu race gurrani kaadu Red Bull taagina simham ni ra #Singham123 @sampoornesh u rock bro