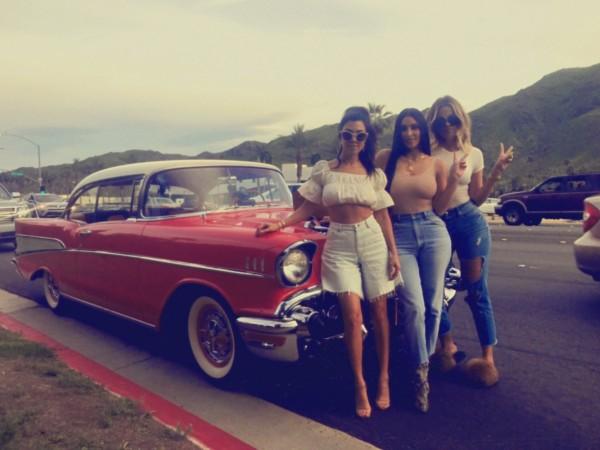 It looks like all is not well between Kim Kardashian and her sister Khloe Kardashian. According to reports, the Keeping Up With The Kardashian's star Kim is not happy with people praising her sister Khloe's body.
Kim has always been in news for her curvy body, but this time Khloe has taken the centre stage and this has left the elder sister "irritated." According to HollywoodLife.com, Kim is happy with Khloe's weight loss goals and she believes that it serves as motivation, but she is not happy with people who are praising Khloe.
"Kim and Khloe have a very competitive relationship. Kim was always the queen bee: the prettiest, the most popular and always getting the hottest guys," a source told HollywoodLife.com.
"It drove Khloe crazy with jealousy growing up. But now, people are gushing over Khloe and how AMAZING she looks. She has worked so incredibly hard on her physique and her look and she's getting noticed — a lot. All the praise and attention Khloe is getting is really getting Kim irritated. She's obviously totally happy for Khloe and supportive but it is a bit much when people say Khloe's got the best body in the family now," the source added.
Also Read: Here is why Kim Kardashian's 'bobby pin hairstyle' is drawing flak!
Now Kim is planning to outshine her sister with her workout efforts. Also, Kim will be focusing more on her diet from now on to get into the perfect shape. "It's been hard with everything that's happened in the past few months and raising two little ones, but she's rededicating herself."
Khloe has been working relentlessly to get the perfect body. Recently, she and her elder sister Kourtney Kardashian released a video – The Two Cardio Moves You Need In Your Workout – in which they revealed their secret.
Watch the video here: