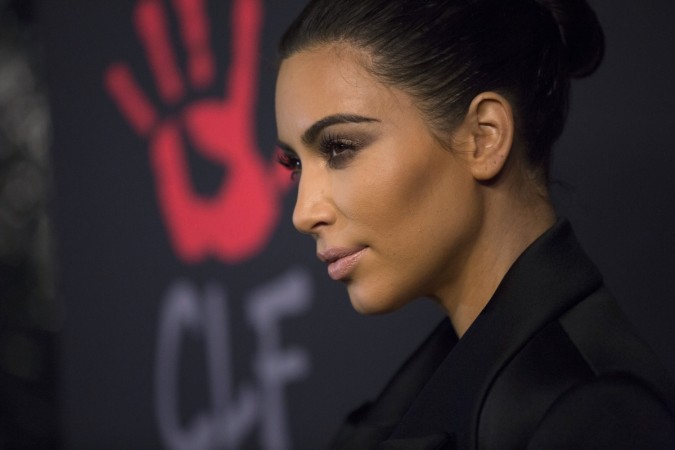 Kim Kardashian is determined to have a third baby with Kanye West and for that, she is even planning to undergo a surgery to repair her uterus. The reality TV star, in a newly released footage of the show Keeping Up With the Kardashians, revealed about her baby plans and the surgery.
Also Read: Kim Kardashian's make-up artist has a message for young girls hooked on Instagram, YouTube tutorials [PHOTOS]
"I have to go in and repair my uterus. Because I decided I'm going to try to have one more baby. Isn't that exciting?" Kim tells her mother Kris Jenner, and sisters, Kourtney and Khloe Kardashian and Kendall and Kylie Jenner in the clip.
"Oh my god, I thought you were for sure done," Kendall tells Kim. Later, Kris' boyfriend, Corey Gamble, warns the TV star to stay from doing anything risky. "I don't want you to do anything that is risky."
"What surgery are we having?" Khloe asks Kim, to which she replies, "I have to have a surgery on my uterus to kind of repair this hole, so they need to like clean that out and then there's scar tissue. It will still be a really high-risk pregnancy; just you'd be able to get pregnant."
"So, why do you want to do it again?" Khloe asks her.
"Having more kids is definitely going to be a struggle. I've gone through so much with really bad deliveries that the doctors don't feel like it's safe for me to conceive again myself.
"This surgery is really the one last thing I can try. I want my kids to have siblings and I want them to know I did everything that I could to make this happen," she says in her confessional.
This is not the first time Kim is facing issues with pregnancy. In 2013, she had issues during her first pregnancy when she suffered preeclampsia, a disorder characterised by high blood pressure and an excessive amount of protein in the urine. She also faced complications during the birth of her son Saint in December 2015.