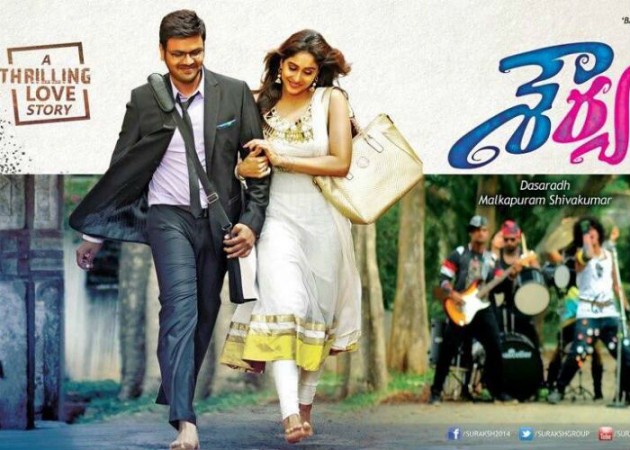 Director K Dasaradh's Telugu movie "Shourya" starring actor Manchu Manoj and actress Regina Cassandra has garnered positive reviews from the audience.
See: Shourya Stills | Kalyana Vaibhogame Review | Guntur Talkies Review
"Shourya" is an edge-of-the-seat romantic thriller movie, which revolves around the story of well-educated Shourya (Manchu Manoj), who is in love with Nethra (Regina Cassendra). Shourya and Nethra decide to elope, but a series of events lead to the murder of Nethra, and Shourya is framed for it.
Why do they decide to elope? Who killed Nethra? What happens after her murder? The rest of the movie answers all these questions. The audience say "Shourya" is a good romantic thriller and K Dasaradh has been successful in his experiment. Manchu Manoj and Regina Cassandra have done a great job and their chemistry are the highlights of the movie.
‎Shourya has superb production values. Dasaradh's thrilling script, Manoj's performance, Regina's glamour, Veda's music and beautiful picturisation are the big attractions of the movie, say the viewers, who shared their verdict on Twitter. Here is the live update of "Shourya" movie review by audience:
ATB 2 INDIA ‏@adityagaru
#‎Shourya A Thrilling Love Story My Rating 3.25/5 Manoj Rocked With his Performance Regina looks Glamorous Brahmi OK Screenplay is Asset Music Decent Songs Picturized well Direction Adorable Overall Watchable Love story
Manishi ‏@endhuku 1h1 hour ago
Done with 1st half. Terrific! @HeroManoj1 is back! #Shourya This movie is a game changer in tollywood. No #Kshanam can come close to this. Amazing work by the team #Shourya
Ajay Kumar ‏@ajayk9704
Watched #Shourya @HeroManoj1 garu.. Superb Thrilling Movie,Well Scripted n Screenplay Excellent @ReginaCassandra Nice.Overall Hit
Sriram Varma ‏@sriramForU
#Shourya -1st half done Sagutho undi... not much excited so far #Shourya - 2nd half OK... Manchu plot but screenplay weak.. Overall an Avg to Below Avg fare.. Thrillers encourage chesevallu try cheyyochu
Kurnoolcityupdates ‏@kurnool_city
Liked #shourya manchumanoj nailed it another different genre movie from him few scenes were outdated but ok @Heromanoj1 liked di movie only few actors in Telugu vl do variations for every movie ur da one in those heros congrats for succes #shourya
ॐ Deepak ‏@DeepakKodela
TV Serial narration. Decade old scenes. #Shourya
Arawind ‏@Areddy207
Excellent BackGroundMusic by #Veda in #Shourya muv @ReginaCassandra @HeroManoj1 After #RaRaKrishnayya @ReginaCassandra dressing is excellent in #Shourya She is looking gorgeous n amazing @HeroManoj1 @directordasarad Excellent interval bang #Shourya Good direction frm @directordasarad @HeroManoj1People r dying to C @ReginaCassandra in #Sandhya Wow #Shourya is too good muv...Congo @HeroManoj1 @ReginaCassandra @directordasarad Especially #Regina ur looking amazing @LakshmiManchu Dat dialogue u say d point of view of lion is SimplySuperb @HeroManoj1 bro u hv nailed it As if u only killed.. @Gopimohan @ReginaCassandra
$ha$hank ‏@shasha1495
@shasha1495 #Shourya 1st half handled quite well with good interval twist!! Interval card says "Thrill continues"let's see what's in store
King Balu ‏@balurocks99
Good 1st half Thrilling Interval bang makes 2nd half Interesting!! #Shourya @HeroManoj1
#Shourya ‏@Iam_NithinVarma
@HeroManoj1 At Ur Best Performance.. Loved So Much #Shourya Loved To Watch U With @ReginaCassandra Congratulations Dashing RockStar
Kishor ‏@Friendly_kishor
@HeroManoj1 Watched #Shourya movie. Simply superb baiyya.
Muralie ‏@Muralitweetz
#Shourya is a BIG HIT. still can't believe myself. TFI producing Thrillers at their Best . So happy for my tirupathi boy @HeroManoj1 anna !